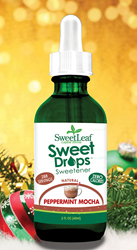 Peppermint Mocha Sweet Drops, easily transform classic desserts into holiday favorites by simply adding the drops to recipes for everything from fudge, cupcakes, and cookies, to cheesecakes, muffins, and mousses.
Gilbert, Ariz. (PRWEB) November 30, 2015
Taste the sweetness of the holidays with Peppermint Mocha Sweet Drops™ from SweetLeaf®. Peppermint Mocha Sweet Drops combine mint with savory chocolate flavor for a touch of winter's most comforting taste combination. The zero-carb, zero-calorie, delicious flavor, liquid stevia instantly adds seasonal charm to any recipe needing a sweet injection of holiday personality.
With Peppermint Mocha Sweet Drops, easily transform classic desserts into holiday favorites by simply adding the drops to recipes for everything from fudge, cupcakes, and cookies, to cheesecakes, muffins, and mousses. Drop into warm, iced, or frozen coffee and milk drinks, or cocktails/mocktails, for unique beverages showcasing the irresistible taste year-round. Oatmeal, pancakes, breads, and yogurt are additional yummy perennial possibilities.
Peppermint Mocha Sweet Drops are available in a 2-ounce dropper bottle, with 288 servings, and can be purchased at: Shopsweetleaf.com. Shop online and view all 20 flavors of Sweet Drops.
SweetLeaf® Liquid Stevia Sweet Drops use organic stevia leaf extract for a better-for-you product that contains no artificial ingredients. For those seeking to eliminate sugar from their diet, non-glycemic-response SweetLeaf is a delicious solution. Use the Conversion Calculator or Conversion Chart on the SweetLeaf website for easy-to-use guidance on replacing Sweet Drops for sugar, making it possible to explore even more sweet possibilities.
Use this recipe to create a memorable Peppermint Mocha Pudding at home:
Peppermint Mocha Pudding

1-1/2 cups heavy cream
1/3 cup unsweetened cocoa powder
1/2 cup brewed, cooled coffee
4 teaspoons arrowroot powder
3 egg yolks
1/4 teaspoon salt
1/4 teaspoon peppermint extract
1 teaspoon SweetLeaf Peppermint Mocha Sweet Drops™
Directions:
Pour cream and cocoa into a sauce pan and whisk until combined. Bring to a simmer then remove from heat. Stir in coffee and set aside. In another bowl, whisk the arrowroot with the egg yolks until smooth. Stir in the salt, peppermint extract, and Peppermint Mocha Sweet Drops into the egg mixture. Spoon a small amount of the hot cream into the egg mixture to temper the eggs and stir well. Add the egg mixture gradually into the cream in the sauce pan, stirring constantly. Heat over medium heat and bring to a full boil, stirring constantly. Reduce to a simmer and continue to stir for 1-2 minutes until thickened. Cool slightly then transfer to serving cups. Place plastic wrap directly onto the top of the pudding so a skin will not form, then refrigerate for 4 hours or overnight. Enjoy with sugar-free peppermint whipped cream! Serves 4.
About Wisdom Natural Brands®
Gilbert, Arizona-based Wisdom Natural Brands® is the parent company of two highly respected and award-winning consumer brands: SweetLeaf® Stevia Sweetener and Wisdom of the Ancients® herbal teas. SweetLeaf® is the natural stevia sweetener with zero calories, zero carbohydrates, non-glycemic response, no sugars and NO artificial sweeteners. The only stevia brand to be named a Top Wellness Company and to consistently win numerous global awards for taste and innovation, SweetLeaf is sold in boxes containing 35 or 70 packets, as well as in SweetLeaf Stevia® Shaker jars for easy home use and SweetLeaf SteviaTabs™ Dissolvable Tablets for on-the-go use. SweetLeaf Stevia® Sweetener is available in both natural and QAI certified organic. Offering consumers additional high-quality choices, SweetLeaf Organics are sold in 35 and 70 count packet boxes and shaker jars. SugarLeaf®, also by Wisdom, bonds SweetLeaf Stevia® and cane sugar for a low-calorie sugar alternative that is perfect for baking and cooking. SugarLeaf has 2/3 fewer calories than sugar. SweetLeaf® Liquid Stevia Sweet Drops™ add flavor without calories or carbohydrates to favorite foods and beverages. Sweet Drops™ also have NO artificial sweeteners. SweetLeaf® Water Drops™ add delicious natural flavor to plain or sparkling water. For more information about SweetLeaf products, recipes, the new SweetLeaf cookbook, Cooking with SweetLeaf Stevia®, and more, visit ShopSweetLeaf.com.
Wisdom of the Ancients® herbal teas, from energizing Yerba Maté Royale® to calming Rooibos and Sympacho®, are available in tea bags and come in a variety of refreshing flavors. Select varieties are also available with a touch of calorie-free stevia sweetener.
Wisdom of the Ancients also produces Cream of Coco™, a natural, sustainable bar soap derived from Mbocaya, an edible nut grown on the Paraguayan coco tree. Cream of Coco is great for all skin types and is ideal as a face and body wash. It's even gentle enough for hand washing delicate fabrics.
SweetLeaf and Wisdom of the Ancients products can be purchased online at ShopSweetLeaf.com or at grocery and health food stores throughout the U.S. and Canada.