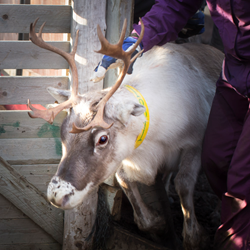 Imagine Life Without Reindeer
USA (PRWEB) December 13, 2015
"For thousands of years, the Sami people have cared for native reindeer. It's part of their way of life. The reindeer depend on the Sami to care for them. But now, the Sami reindeer herders are dwindling in numbers which threatens the culture and the reindeer," says ViviAnn Labba Klemensson, founder of the Adopt a Reindeer Foundation.
The Adopt a Reindeer Foundation is a newly launched nonprofit organization with the mission of helping to preserve the indigenous Sami culture by protecting the native reindeer that are essential to the Sami way of life, through financial contributions--adopting a real, live reindeer. The lives of the Sami of northern Europe are deeply intertwined with the herding of these animals.
Fittingly, the launch of the Adopt a Reindeer Foundation coincides with the Christmas holidays—at a time of year where many images and stories include reindeer, most notably, Rudolph the Red-nosed Reindeer. With the launch comes the campaign seeking 1,000 supporters to "adopt" a reindeer for $100 each.
Anyone can make a symbolic donation to adopt a reindeer, together with others, or adopt a reindeer or even a herd of their own. If you adopt a reindeer or a herd by yourself you can name the reindeer too, and get pictures of them!
Klemensson created the foundation to support one of Europe's few indigenous people and to empower Sami children and adolescents and to support the native reindeer which are in the heart of the Sami culture. She started the foundation in her thoughts long before it actually became reality.
The funds raised from reindeer adoption will support the work of the Adopt a Reindeer Foundation going forward. Among the many future plans for the Foundation are:
1. Supporting the reindeer herders and promoting and preserving their traditional way of life.
2. Educating Sami children and adolescents about their culture, traditions and language
3. Promoting the Sami parents' ability to raise their children aware of their culture, roots and identity.
4. Support the mental health of the Sami people since suicide rates are high; thereby strengthening the Sami community.
More detailed information about the Adopt a Reindeer Foundation may be found at http://www.AdoptaReindeer.org