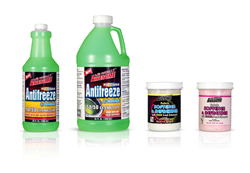 "Our philosophy has always been to give the community inexpensive options that work just as well, if not better, than their name-brand counterparts." - LD Hardas, CEO
Buena Park, California (PRWEB) November 26, 2015
LD Hardas has announced the launch of two new LA's Totally Awesome household and automobile products.
"We are pleased to announce our new 'Fabric Softener & Refresher' and 'Pre-Diluted Antifreeze' products. These two additions bring the same level of safety, efficacy, and affordability that our customers have come to expect from LA's Totally Awesome," says LD Hardas, CEO and Founder.
The Fabric Softener is an in-wash dissolving bead that leaves laundry with a fresh or floral scent, while the Antifreeze is a familiar staple in automobile coolants.
The latest releases come as a result of growing demand for quality laundry and automotive products at lower price points. "Our philosophy has always been to give the community inexpensive options that work just as well, if not better, than their name-brand counterparts," Hardas continues, "Our new Fabric Softener and Antifreeze products were created with that in mind, and we are excited for the release."
LA's Totally Awesome has been producing a variety of surfactant chemical and household cleaners since 1983. The Buena Park, California company has also recently expanded to include hair and beauty products, most notably the 'Helene Curtis ThermaSilk' line.
The Anti-Freeze will initially be available in two sizes: a 64 fl oz (1892 ml) and 128 fl oz (1 Gallon)(3765 ml), while the Fabric Softener beads come in a 16 fl oz size for easy storage in the laundry room.
Both products will be available December 1st in the following retailers: 99 Cent Only, Dollar Tree, Dollar General, Family Dollar, Food for Less, and Superior Grocers stores.
To learn more about LA's Awesome Products and see how The Fabric Softener and Antifreeze products are the best products on the market, visit https://www.lastotallyawesome.com/.