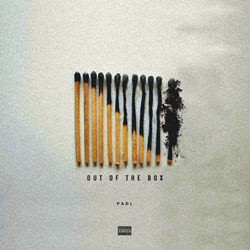 Miami, FL (PRWEB) November 24, 2015
Today Coast 2 Coast Mixtapes announces the release of the "Out of the Box", the latest mixtape by Dubai recording artist Fadl. The mixtape is currently available for streaming and download at the Coast 2 Coast Mixtapes website.
The mixtape features 12, including those below:
01. The Chase
02. The Man (feat. Billard)
03. Elevated
04. Hate
05. I'm High Today
06. Tell Em
07. EIWISB (feat. OG Maco)
08. U Ballin
09. New Age
10. Do It Right (feat. Tiny)
11. How We Do
12. CBO
Fadl is currently seeking press opportunities, interviews, features, and more. He can be reached through his official website.
About Fadl: Fadl, born and raised in Dubai, started rapping as a hobby at the age of fifteen. He turned his hobby into a profession and started mastering the craft of music, producing and rapping when he moved to London in 2008. His project "New Chapter" was his introduction to the music industry. Next came "Two.17", which had a more developed and mature sound. This project was mainly created with music producer John Robinson at Clique Production Studios in London. After the release of two projects, and a lot of positive feedback from London artists, producers, and industry professionals, Fadl started working more on his vocals, listening to different genres of music and incorporating different instruments and sounds together to start work on his third album. The third episode in Fadl's story is "Neverland", a much darker project than his previous two. The idea of this album was conceived in London and fully recorded and produced at Soundstruck Studio's with the help of Dubai's Radio 1 DJ & Hip Hop Ambassador Dany Neville. Neverland was released at Virgin Megastores across the MENA Region in September 2014.The artist then established contacts in LA and Miami and started working from both cities with professionals over the next year, where he got inspiration for his next project and debut mixtape "Out Of The Box". It includes features from artists such as OG Maco and Tiny, homegrown talent that he always loved to support. This project was meant to put Fadl into the industry and introduce him to the U.S. market. The name was what it literally means, he's out of his shell and ready to go. He also shot 3 videos in Miami, where the first track on the mixtape, "The Chase" will be released along with the mixtape. The other two videos are scheduled to drop shortly after. We are all really excited to see what's next on Fadls agenda. For music by Fadl, visit his official Soundcloud page.
About Coast 2 Coast Mixtapes:
Coast 2 Coast Mixtapes are the most widely distributed mixtapes in the world, with over 100 million downloads/plays generated by over 300 volumes officially hosted by major artists. Coast 2 Coast has a solid reach in the new music industry with a digital magazine, DJ coalition, industry tips blog, yearly convention, and more. Coast 2 Coast Mixtapes represents a unique opportunity for artists of all urban genres, from major to indie. For more information, visit http://www.coast2coastmixtapes.com.