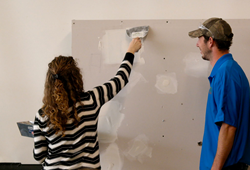 We reach out to the community to help educate people about what we do and our approach to home remodeling
Chantilly, VA (PRWEB) November 26, 2015
Moss Building and Design, a residential remodeling company serving Northern Virginia, teamed up with Mothers of Preschoolers (MOPS) to teach their members some beneficial home improvement skills. The two groups, MOPS of Crossroads United Methodist Church in Ashburn, VA and MOPS of Mclean Presbyterian in Mclean, VA hosted MOSS as their guest speaker for their weekly meetings.
MOSS professionals Damon Cruz and Andrew Mallon led the HandyMOM101 sessions which covered a variety of patching skills including how to patch drywall from everyday wear and tear to patching holes that were hammered in. Project Manager Damon Cruz says he enjoys doing the events because he feels that it truly represents what MOSS stands for. "We reach out to the community to help educate people about what we do and our approach to home improvement. It is always great to see excited faces in the crowd!"
MOSS offers several different HandyMOM101 workshops, including 'Hang It,' 'Power It,' 'Patch It,' and 'Tile It.' These sessions cover not only drywall patching but other skills like how to properly hang heavy picture frames or TVs, how to use power tools, and how to plan, lay and cut tile.
ll HandyMOM 101 sessions include a presentation by a MOSS pro, followed by a hands-on station where attendees get to test their skills with expert supervision.
About Moss Building & Design and Moss Home Services:
Moss Building & Design and Moss Home Services is an award-winning residential remodeling and home services company located in Chantilly, Virginia. As a trusted home improvement company in Northern Virginia, MOSS focuses on providing customer service that is unparalleled by any other contractors in the area. MOSS builds lifelong relationships with their customers that are centered around this trust.
Since 2001, MOSS has established a reputation for excellence in remodeling additions, kitchens, bathrooms, basements and home services throughout Northern Virginia. Their customers see them as a trusted partner, and MOSS is very proud that over 85% of their customers consider themselves 'customers for life.' Moss Building & Design has won consumer awards from Angie's List for five consecutive years and also has an A+ rating from the Better Business Bureau as well as many industry building and design awards.