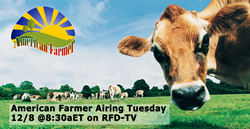 Jupiter, FL (PRWEB) December 02, 2015
American Farmer announces the upcoming airing of American Farmer, scheduled to broadcast on Tuesday, December 8, 2015 at 8:30 am ET on RFD-TV.
In this episode, American Farmer will feature H.J. Baker & Bro., a world leader in agriculture's Animal Health and Nutrition and Crop Performance industries. Audiences will be educated on their strategically located processing plants, offices and warehouses, which create a super-efficient pipeline for vital commodities and products.
In addition, the show will explore how Triple C provides cow-calf producers with proven products manufactured to thrive in the tough conditions on North American ranches. Viewers will get an inside look at the company's product development process, which has always been driven by providing practical solutions to real ranch problems.
"American Farmer is dedicated to exploring the most innovative and groundbreaking changes taking place in the industry," said Kelly Fussell, Producer for the American Farmer series. "We look forward to enlightening our viewers on the amazing things these key players are doing for the industry."
About American Farmer:
American Farmer is a breakthrough program on a mission to showcase the latest advancements in agriculture and farming. From seed to harvest, livestock and more, our producers have traveled the country covering the people, places and issues impacting all areas of farm country.
American Farmer airs Tuesdays at 8:30am ET on RFD-TV. Check your local listing for show times. For more information visit: http://www.AmericanFarmerTV.com or contact Kelly Fussell at (866) 496-4065 x 850 or via email at: Kelly(at)AmericanFarmerTV(dot)com.