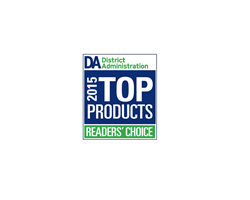 ORIGO is dedicated to providing engaging curriculum tools to help deliver math instruction.
St. Charles, MO. (PRWEB) December 01, 2015
District Administration recognizes ORIGO Stepping Stones, an elementary mathematics curriculum from ORIGO Education, as a "Readers' Choice Top Product for 2015." The math curriculum was nominated and selected for making a positive difference in education by K-12 leaders.
"It was inspiring to learn about the products being used in today's schools and classrooms that are helping districts succeed," said JD Solomon, editorial director at District Administration. "All of our 2015 honorees should be very proud of this achievement."
Stepping Stones is a comprehensive core mathematics curriculum for grades K–5 with a blend of digital and print resources. Written by a team of experts, Stepping Stones delivers multiple ways to differentiate math instruction, offers Common Core aligned resources and develops students' high-order math skills. The online math curriculum is used in more than 100 districts serving 450,000 students in the United States.
"Being named a top product by K-12 leaders and District Administration readers is a testament to Stepping Stones and how effective it is for students and educators," said Melisa Bartlett, general manager of ORIGO Education. "ORIGO is dedicated to providing engaging curriculum tools to help deliver math instruction."
The winners were compiled from 2,100-plus nominations from the magazine's readers over the past year. District Administration's Readers' Choice Top Products awards program informs superintendents and other senior school district leaders about products their colleagues around the country are using to help their districts excel in a variety of areas, such as technology, sustainability and curriculum instruction.
To learn more about ORIGO Stepping Stones, visit http://www.origoeducation.com/steppingstones.
About ORIGO Education
ORIGO Education covers all facets of elementary mathematics education, from traditional printed products to digital interactive resources and professional learning. ORIGO's web-based curriculum, Stepping Stones, is a comprehensive, core mathematics curriculum for grades K–5. The technology-rich program blends online resources with traditional printed materials, resulting in a classroom that is engaged and provides differentiated learning. Professional development videos are embedded within the online program, giving teachers the confidence and knowledge they need to be successful. For more information about Stepping Stones, visit http://www.origoeducation.com/SteppingStones.
About District Administration
District Administration provides K12 leaders with critical news and information for school district management, through its monthly magazine, website, e-newsletters and the District Administration Leadership Institute Superintendent Summits. For more information, visit http://www.DistrictAdministration.com.