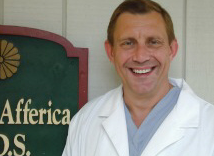 Norcross, GA (PRWEB) November 24, 2015
Dr. Todd S. Afferica, a noted general dentist in Norcross, GA, is pleased to now offer laser services to many of his patients. Dr. Afferica now uses the BIOLASE WaterLase iPlus 2.0™ in many of his dental procedures. This laser was designed to reduce the amount of time the doctor uses other traditional cutting tools, such as the scalpel and high-speed drill, which can both cause patients a large amount of pain. Conversely, the laser system is known for its ability to reduce the amount of pain patients experience, and thus reduce the amount of anesthetic necessary during each dental procedure.
The BIOLASE WaterLase iPlus 2.0™ is a unique system because it uses the power of water to help create a less painful experience. The laser is used in conjunction with a low stream of water that hydrates the area and provides assistance in the cutting mechanism. The laser works largely by exciting the water particles in and on the tissue being removed, which facilitates the easy removal of the tissue. This entire process greatly reduces the amount of friction that is necessary in the procedure compared to traditional tools, so patients feel less pain. When the laser is applied to soft tissue removal, as any general dentist in Norcross, GA, would do in removing lesions or treating gum disease, the laser results in less swelling and blood loss as well.
With fewer of these common side effects found after using the laser, it is no wonder Dr. Afferica utilizes it in as many applications as possible, including the removal of tooth decay and teeth whitening. Those who would like to schedule an appointment with a general dentist in Norcross, GA who uses this system are invited to contact Dr. Afferica's office.
About the Doctor
Dr. Todd S. Afferica is a general dentist offering personalized dental care for patients in Norcross, GA. Dr. Afferica and his team provide a wide range of services and are committed to high quality, professional care through the use of laser dentistry and other advanced techniques. To learn more about the services offered by Dr. Afferica please visit his website at http://www.toddaffericadds.com or call (770) 449-1497 to schedule an appointment.