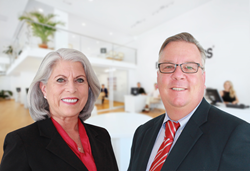 Madeira Beach, FL (PRWEB) November 26, 2015
Vicinity Realty becomes Engel & Völkers Madeira Beach, the 24th Engel & Völkers shop in Florida. The shop is owned and managed by Cherie Pattishall license partner and broker, and Michael Wyckoff, managing broker. They both have been active in the real estate market of Madeira beach for 20 years. Michael has lived in Madiera beach for the last 35 years, and Cherie is a Florida native, having grown up in South Tampa, and worked the last 20 years in Madeira Beach.
Cherie and Michael had been selling Maderia Beach real estate under their Vicinity Realty Services Inc. name since 1997, and are very proud to now be a part of the Engel & Völkers Florida family. Cherie is a member of Institute for Luxury Home Marketing, has the GRI designation, e-PRO certification and CNE (certified negotiation expert). Michael is also a GRI, has the CRB designation (Council of Real Estate Brokerage Managers), Certified Professional Property Manager (CPMC) and Certified Negotiation Expert (CNE).
"The Madeira Beach market is in a continuing growth mode, with redevelopment taking place all around. Values are continuing to rise at a steady rate, as the Gulf Beaches continue to represent a bargain when compared to other Florida markets. The tourism numbers continue to rise and the 2nd home market is gaining strength as the Canadian and European visitors continue to find our area quite attractive" said Michael Wyckoff about the Madeira Beach real estate market.
Vicinity Realty Services was a boutique shop with the primary goal of providing unexpected customer service. We remained independent for a long time since there was not another real estate brand that shared our values. When we were asked to join the Engel & Völkers Florida organization we were thrilled to see that they shared the same goal of providing the highest level of service to our clients. Adding our experience and client commitment to the global reach, luxury branding and technology platform of Engel & Völkers will raise the bar for all real estate brands on the Gulf Beaches.
Our market area is under-served by the current real estate offices, and there is not one clear market leader. We intend to fill that void.
The team wanted to join the Engel & Völkers brand because of its global reach with a local perspective. Investing in the franchise gave Cherie the tools and systems along with the premium branded Engel & Völkers name needed to be successful. Cherie and Michael knew that the premium branding of Engel & Völkers would attract the top listings and agents in the Madeira Beach area.
"Engel & Völkers is a strong brand that has maintained its high level of quality throughout its network of agents and brokerages – and not just in the U.S. but around the world." Cherie Pattishall and Michael Wyckoff, Engel & Völkers Madeira Beach.
The shop is located at 14225 Gulf Blvd Madeira Beach, FL 33708 right across the street from Shore Resort, and will officially be open for business Tuesday December 1st, 2015.
About Engel & Völkers
Since its beginning in 1977 as a specialty boutique providing exclusive, high-end real estate services in Hamburg, Germany, Engel & Völkers has become one of the world's leading companies specializing in the sale and lease of premium residential and commercial property, yachts and private aviation. Engel & Völkers currently operates a global network of over 7,000 real estate advisors in more than 650 brokerages spanning 39 countries across six continents, offering both private and institutional clients a professionally tailored range of luxury services. It established its North America corporate headquarters in 2007 and opened its first brokerage in the same year. Committed to exceptional service, Engel & Völkers supports its advisors with an array of premium quality business services; marketing programs and tools; multiple platforms for mobile, social and web; as well as access to its global network of real estate professionals, property listings and market data. Engel & Völkers is an active supporter of the Fair Housing Act and the Equal Opportunity Act. Each brokerage is independently owned and operated.
For further information please contact:
Ali Strauss
Engel & Völkers Florida
239-348-9000
alexandra(dot)strauss(at)evusa(dot)com