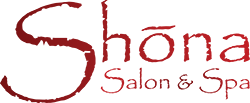 Scottsdale, AZ (PRWEB) November 25, 2015
Shōna Salon & Spa, located at 15090 N Northsight Blvd. #108 Scottsdale, AZ 85260, is now offering their guests eyelash extensions at the extremely affordable introductory price of $120.
Eyelash extensions are the rage right now. Just about every magazine out there has photograph after photograph of celebrities with long, luxurious eyelashes. Shōna Salon & Spa want their guests to have this celebrity treatment as well. Traditional false eyelashes are applied in one long strip that can easily fall off. Here, the lashes are professionally applied individually and can be the length, style and texture that best suits their guest's needs. Shōna is offering a variety of lash options which includes 100% mink.
Shōna's staff has undergone extensive training and guests can be assured that their lashes are being applied by a licensed professional. This is not guaranteed at places other than Shōna. Shōna is also offering your first fill free when that appointment is booked at the time of the original appointment. There is also a complete line of lash care products available for purchase that will allow guests to maintain this glamorous look for 4-6 weeks.
"Eyelash extensions not only provide clients with long, luxurious lashes that make their eyes pop, but in some cases enable people to achieve a look that makeup cannot help them with," says Shōna's owners. "By offering this professional service at an affordable introductory price guests can look like their favorite celebrity after one application."
Shōna Salon & Spa is open Tuesdays through Thursdays from 10 a.m. to 8 p.m. Fridays from 10 a.m. to 6 p.m. and Saturdays from 9 a.m. to 7 p.m. The salon is closed on Sundays and Mondays in order for the staff to feel refreshed when they are working to make you look and feel your best.
About Shōna Salon &Spa
Shōna Salon & Spa is an Aveda concept salon that offers a welcoming atmosphere where guests receive unparalleled services, personalized to their individual needs all while using the top of line Aveda products clients have come to expect. Shōna offers a variety of salon and spa services such as facials, pedicures, manicures, massage, hair treatments and cuts and the unique Vichy hydro- treatment. Shōna's staff of experienced stylists and estheticians are trained in all of the latest concepts and styles in order to keep their clients feeling healthy, refreshed, rejuvenated and most importantly, happy.
Media contact:
Jose Miguel Santiago
Phoenix Marketing Associates
602-282-0202
XXX