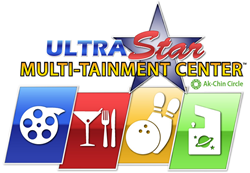 Maricopa, AZ (PRWEB) November 25, 2015
The UltraStar Multi-tainment Center at Ak-Chin Circle announced earlier this week that they would introduce their special pricing on the 2016 Loyalty Package deal the day after Thanksgiving, November 26, 2015 through Sunday, November 29, 2015.
For $39.95, guests can purchase the Ultimate Loyalty Package which includes a loyalty cup, a popcorn card, a $10 game card and a white UltraStar Multi-tainment Center T-shirt. Also, for every dollar spent at the retail store, a game card will be issued in an equal amount to be used at the Play 'n Win Game Center. The dollar for dollar game cards and the loyalty package can be picked up at Guest Services at the Retail Center near the rear entrance.
Other deals include: Purchase a $25 gift card and receive a $10 game card free; purchase a $100 gift card and receive a $50 game card free. In addition, purchases made at the retail store will earn various wristband vouchers. Spend anywhere from $25 through $100 or more and receive a Master Blaster Wristband on up to the Ultra Package Wristband Voucher. Full details available at UltraFun Rewards retail store.
Though the deal will only run until Sunday, November 30.
"We know holiday shopping is a big deal for a lot of our guests and we're very excited to give them various fun options to give as gifts and a little something they can enjoy for the 2016 year," says Adam Saks, UltraStar General Manager.
For more information and detailed information on all UltraStar specials, visit: http://www.UltraStarAkChin.com
About UltraStar Multi-tainment Center at Ak-Chin Circle:
The UltraStar Multi-tainment Center at Ak-Chin Circle, an enterprise of the Ak-Chin Indian Community, is operated by California-based UltraStar Cinemas. UltraStar Cinemas is recognized for pioneering the digital age of cinema. They are the first theater group in the world to be fully equipped with Pure Digital Cinema® powered by DLP Cinema® technology in all of their locations. The UltraStar Multi-tainment Center at Ak-Chin Circle features "One stop, non-stop entertainment." Guests experience adventure, competition, entertainment and relaxation all conveniently located under one roof. The Multi-tainment Center features state-of-the-art digital theaters, bowling, dining, sports lounge, live entertainment, laser tag and arcade gaming as well as corporate and private event facilities. It is located at 16000 Maricopa Rd., Maricopa, AZ. http://www.ultrastarakchin.com
About Ak-Chin Indian Community:
The Ak-Chin Indian Community is nestled into the Santa Cruz Valley of Southern Arizona. The Community lies 35 miles south of Phoenix in the northwestern part of Pinal County. Ak-Chin is an O'odham word translated to mean "mouth of the wash" or "place where the wash loses itself in the sand or ground." Ak-Chin has an enrollment of more than 1,022 tribal members and a land base of just over 22,000 acres. The Ak-Chin Indian Community has a variety of business enterprises including Harrah's Ak-Chin Casino, Ak-Chin Southern Dunes Golf Club, UltraStar Multi-tainment Center at Ak-Chin Circle and Santa Cruz Commerce Center. For more information, visit http://www.ak-chin.nsn.us.
Media contact:
Christine Holtz
Phoenix Marketing Associates
602-282-0202