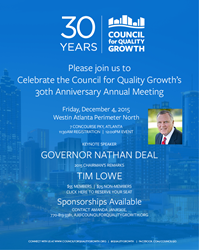 ATLANTA, Ga. (PRWEB) November 25, 2015
The Council for Quality Growth will once again assemble giants of Atlanta's real estate and development community for its annual meeting, this year for the 30th time. On December 4, 2015 from 11:30am – 1:30pm, members and supporters of the organization will gather at the Westin Atlanta Perimeter North to discuss the year in review and hear a keynote address from Georgia Governor Nathan Deal.
"The Council is now recognized as an essential partner in community, regional and statewide decision making because of the active involvement of our members," said Tim Lowe, who is the Council's 2015 Chairman and the Principal of Lowe Program Management. "This has enabled us to accomplish a tremendous amount over the past year."
Lowe will address the audience, reflecting on the Council's triumphs and key issues addressed throughout 2015. Scott Condra, President of the Condra Group, LLC, will then be installed as the Council for Quality Growth's 2016 Chairman. The program will also include presentation of a $25,000 donation to the Westside Future Fund, an organization that builds partnerships and creates opportunities for current and future residents of Westside neighborhoods such as Vine City, English Avenue, Ashview Heights, Atlanta University Center and a portion of Castleberry Hill. These presentations will precede the keynote presentation from Governor Nathan Deal.
"As the Council for Quality Growth celebrates its 30th anniversary in 2015, I can't help but be proud of the role the organization has played in the region's growth and success," said Michael Paris, president and CEO of the Council for Quality Growth. "While the Council has expanded what we do in breadth and depth over the years, we've stayed true to the organization's original model to forge decisions on complicated and controversial growth issues in an effort to reach consensus and move forward productively."
The Council was founded by a group of developers in 1985 in reaction to a construction moratorium in the rapidly growing Gwinnett County. Since then, the organization has expanded to impact the regulatory environment of the metro Atlanta region and state, focusing on supporting policy that fosters quality development and growth.
Registration is open at http://www.councilforqualitygrowth.org. Admission is $55 for Council members and $75 for non-members.
About the Council for Quality Growth
The Council for Quality Growth is a trade organization that works to ensure continued growth and economic success for generations to come by providing advocacy, information and education to its members. For 30 years, the Council has been committed to the mission of promoting balanced and responsible growth, and is proactively involved in the formulation of policy and legislation critical to the growth and development industry. The Council addresses, head-on, strategic economic planning, infrastructure needs and tough quality-of-life issues throughout the metro Atlanta region and state. http://www.councilforqualitygrowth.org
###