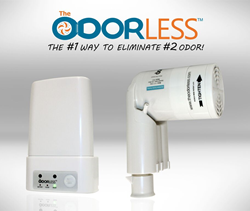 The Odorless is a simple, affordable and easy to install solution that eliminates 99% of the micro-organisms that cause #2 odor
Texas City, TX (PRWEB) November 25, 2015
As a business story, it was the Kickstarter campaign that didn't stink. In actuality, it was the Kickstarter campaign that came up smelling like roses – surpassing its goal quickly and raising more than $33,500 in pre-orders. The Odorless is now available for pre-orders at discounted pricing on Indiegogo InDemand
"The popularity of our product and the success of our campaign proved to us that we have the right product for one of the biggest problems that we all have to deal with - embarrassing #2 odor," said Victor Rey, President of The Odorless. "The Odorless is a simple, affordable and easy to install solution that eliminates 99% of the micro-organisms that cause #2 odor."
The idea quickly resonated with consumers, who saw this product as a way to restore domestic and workplace tranquility; not to mention saving marriages and making holiday parties more pleasant for everyone – people actually leave parties early because they have to go #2. The Odorless is the #1 solution to the #2 problem.
WHY CONSUMERS LOVE IT:

Nobody gets judged or outed for "destroying the bathroom"
Parties goers feel less at risk of embarrassment so they can stay longer
Small offices become cleaner, more pleasant work spaces
Curiosity about "that incredible thing" in the bathroom
Less "late-night" flushes that wake others at home or in a Bed & Breakfast
Lowered chances of airborne fecal matter coming in contact with toothbrushes and washcloths
Bathrooms smell 99% better and the "next" person is forever grateful
THE SCIENCE:
The Odorless fan unit is easy to install. It's quickly placed on the overflow-vent pipe located in the toilet's tank. A sensor automatically turns the unit on when someone sits down. The air is then pulled from the holes in the rim of the toilet (where water comes through when flushed), through the overflow-vent pipe and expelled as clean air through an activated carbon filter. Odors actually adhere to the activated carbon leaving no smell. Powered by a rechargeable NiMH battery, the Odorless does not require an outlet. The filter lasts approximately 120 usage hours - the equivalent of 700 or more #2 visits to the bathroom.
The Odorless is available now at discounted pricing on the Indiegogo InDemand platform.