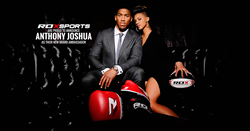 RDX Sports proudly presents young British boxing phenomenon Anthony Joshua who is the current Commonwealth Heavyweight Champion as their official brand Ambassador for 2015.
(PRWEB) November 26, 2015
RDX Sports are delighted to announce that British Olympic Gold Medallist and current Commonwealth Heavyweight Champion Anthony Joshua is their new Brand Ambassador.
Anthony Joshua, MBE is a professional heavy-weight boxer in the UK. The 26 year old, 6ft 6' heavyweight began boxing when he was just 18. In 2011, Joshua won silver at the World Amateur Championships in the super heavyweight division. From there, Joshua continued his journey as an amateur when he won super heavyweight gold in the 2012 London Olympics. In 2013, he turned professional and has since has won all 14 of his fights, taking as little as 83 seconds to win. Joshua is currently ranked as number 3 in the British Heavyweight ranking.
RDX Sports are a renowned manufacturer and retailer of high quality, professional boxing and MMA equipment and sportswear. Since their establishment in 1999, they have become one of the largest international sporting brands. All RDX products pass rigorous quality checks, from their large punch bags to a simple gum shield and are all tested by professional athletes. RDX are becoming the number one supplier for personal trainers, professional and amateur fighters along with fitness fanatics. Their superior quality and excellent service makes them the 'fighter's choice'.
Joshua is excited to be representing RDX and stated "I am looking forward to working with RDX and hope to keep up my success with RDX products". Ray Qudos, Head of Sales and Marketing at RDX spoke of his delight "We can't wait to start working with Anthony Joshua. It is a great achievement for us to be represented by such an upcoming British boxer with growing global appeal". Anthony Joshua will represent RDX sports for the next 12 months. RDX are looking forward to the future developments this partnership will offer.
Visit http://www.rdxsports.com for full product catalogues and secure shopping of RDX gear. Stay tuned with RDX for Black Friday and Cyber Monday deals and get your hands on best fight gear ever. RDX Sports – The Fighters Choice.
Bury, UK http://rdxsports.com/ - admin(at)rdxinc(dot)co(dot)uk
Contact:
Rachel Adams
Press(at)rdxsports(dot)com
Unit B3, JF Business Center, Fernhill Mill,
Hornby Street
Bury
United Kingdom
+44 845 570 0700