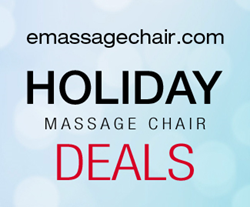 We're proving that great customer service and low prices do go together!
Las Vegas, NV (PRWEB) November 26, 2015
Inevitably when people think Thanksgiving, they also think Holiday sales and start their holiday shopping strategy. Many Emassasgechair.com customers choose to buy during the Black Friday and Cyber Monday massage chair sales to receive the best pricing on their holiday gifts. Shoppers don't need to search the Internet high and low to find the best massage chair deals, they can see all of the coupons in one place on the just released Holiday Coupon page.
Buying a massage chair really is best during the holidays as most manufacturers have just recently released their newest models. One of the best new releases, the Ogawa Active SuperTrac, is quickly gaining traction this year with its exclusive adjustable massage roller track. This chair gives users a very customizable massage experience with multiple massage positions such as Zero Gravity and the comfy Bed Position, as well as endless massage styles for the entire spine and under the seat for a relieving glute massage. Customers are also excited about the new release of the iRobotics 7 by Luraco. Luraco chairs are made in the US and are known for their spacious seats, refined air compression, and tech savvy advancements like the Bluetooth compatible remote with downloadable app. Another new chair that has quickly become a customer favorite is the Titan Pro Executive. The Pro Executive is a stellar deal being one of the only chairs with 3D massage and foot rollers in the under $3000 range…very affordable! Bargain shoppers are also loving the brand new Ogawa Refresh massage chair that was also released this year. The Refresh is a sleek Zero Gravity massage chair that focuses on the neck and shoulder area and provides full body massage for under $2000. Shoppers looking for the best massage chairs of 2015 can see Emassagechairs' full list here: Best Massage Chairs of 2015.
The experts at Emassagechair.com strongly believe that their customers are the smartest customers around. They research and compare various brands and often call in to chat about the massage chairs that they are considering before buying. They know that it always pays to ask a massage chair expert if they are unclear on which massage chair to purchase for their family. Customers can click the "Ask an Expert" button on the Emassagechair website, click to chat live with an expert, email in their questions, or simply call to find the chair of their dreams. With knowledge of almost every brand and every chair on the market, having sat in and studied them program by program and feature by feature, Emassagechair.com's experts are a valuable resource.
Holiday shoppers will also be relieved to hear that Emassagechair has a Price Match Promise. If a customer is shopping around and discovers a lower price than what they have seen on their website, they can simply notify a team member and in most cases, have their low price matched or better yet, beat! There is no better piece of mind than ordering from the A+ Better Business Bureau rated company with the lowest prices around. "We're proving that great customer service and low prices do go together," says James of Emassagechair.com.
Emassagechair.com is dedicated to providing the best massage chairs at the best prices with exceptional customer service.
Have a question? Ask an Expert! You can reach Emassagechair.com by calling 888.360.9996.
Emassagechair.com
7582 Las Vegas Blvd. S. Suite #429
Las Vegas, NV 89123-1060
888.360.9996