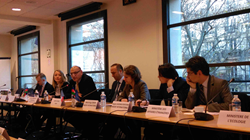 ASAN has the potential to become a great Azerbaijani export – alongside oil and gas – and I am delighted that it is in the focus of MEDEF International.
Paris, France (PRWEB UK) 25 November 2015
On 23 November, the achievements of the groundbreaking Azerbaijani Service and Assessment Network (ASAN) were unveiled during a seminar at the headquarters of the Mouvement des Entreprises de France (MEDEF International) – the largest business federation in the country – a stone's throw from the Eiffel Tower. The event was organised by MEDEF International, in collaboration with the French office of The European Azerbaijan Society (TEAS) foundation, and came in the wake of ASAN winning the UN Public Service Award in June. Representatives of numerous French companies working in the spheres of security systems, technology, infrastructure and public transport were in attendance.
Marie-Ange Debon, Chairperson, France–Azerbaijan Business Council, MEDEF International, commented: "In France, public services provision is dependent on the region. France is a country of large physical size, and certain parts of the population are disenfranchised by their location. The application of such concepts as ASAN to the French context could have a major benefit. ASAN has the potential to change the mentality of public services provision for the benefit of all."
H.E. Elchin Amirbayov, Azerbaijani Ambassador to France, stated: "This is an important opportunity for information exchange, and I am glad many representatives of French enterprises have been able to attend, despite the tragic events in Paris just over a week ago. Azerbaijan remains a very important partner for France, hence the hosting of this event in the headquarters of MEDEF."
Ambassador Amirbayov continued: "Azerbaijan is undergoing very swift modernisation, and there is great political will to change. ASAN has the potential to become a great Azerbaijani export – alongside oil and gas – and I am delighted that it is in the focus of MEDEF International. ASAN has already been presented across Europe, including the European Parliament in Brussels and the British Parliament. This is a great opportunity to exchange best practice information, and ASAN is looking to co-operate with partners across Europe."
Marie-Laetitia Gourdin, Director, TEAS France, said: "The development of ASAN in Azerbaijan has been a great transformational experience. After the Soviet collapse, it was necessary to completely reconsider systems for the provision of public services. The main tenets of ASAN are transparency and innovation, and it has enormous potential for overseas applications."
Azad Jafarli, Head, International Relations Department, Azerbaijani State Agency for Public Service and Social Innovations, delivered the keynote speech: "Today is a very important opportunity to exchange the experience of ASAN with France – we are already in the process of exporting the systems to other former Soviet, African and South American countries. There are currently nine ASAN service centres in Azerbaijan. ASAN is a national mechanism of public service delivery in Azerbaijan that provides a single space for more than 350 services from 10 ministries and is completely different to any systems available in other countries."
Mr Jafarli revealed: "Corruption is completely impossible, due to the effective service delivery process system that a priori excludes any negative conditions conducive to corruption. By providing a space for the delivery of public and private services through single locations called ASAN service centres, ASAN successfully promotes the concept of Public–Private Partnerships. The average age of employees is 25 years, so they are all IT-literate. Each centre handles around 2,500 enquiries each day, and is open from 10am to 8pm, seven days a week. Appointments can be booked in advance, queuing is minimised, and many transactions can be taken in one visit."
The five main pillars of ASAN are as follows:

accessibility – everyone in Azerbaijan has an equal right to access ASAN services.
accountability – every employee has to recognise their own responsibilities – so customer feedback systems have been implemented, either using exit poll terminals or social media – the ASAN Facebook page currently has more than 341,000 'likes' – and there are regular performance appraisals, in addition to financial incentives for professionalism.
efficiency – use of the latest technologies ensures that our services are efficient. For example, renewing a passport takes just one day. We are currently investigating whether this can be renewed in one hour.
transparency – information is provided through various channels of communication in an open and transparent manner, so people have a clear understanding of the processes they must follow and the government fees they must pay.
innovation – ASAN is always in contact with citizens, values their feedback and tries to incorporate their ideas. People know where to complain if they have received poor service, or wish to recommend a development through the electronic ideas bank that is located in each ASAN centre.
Mr Jafarli continued: "ASAN centres have now transformed from being a one-stop-shop for government services through to becoming a general hub for services, including banks, insurance and medical services. We have also developed the mobile ASAN service comprising high-tech buses that deliver the services to rural areas of the country. These have now served over 350,000 people. We can also come to you – services can be conducted at your home. An extra fee is payable for this, but this subsidises the provision of the same services for disabled people."
"The population of Azerbaijan is 9.6m, and in just over two and a half years, we have served around 6m people, and each centre serves around 2500–3000 people a day. Our exit polls indicate there is 98 per cent satisfaction with our services. ASAN services have achieved ISO 9001:2008 certification, which guarantees the quality of the system, and it holds a British Safety Award. When Azerbaijan was head of the Council of Ministers of the Council of Europe, ASAN was presented, and it was lauded as embodying a major aspect of Human Rights and Good Governance."
The enthusiastic question-and-answer session covered such aspects as the synergies between biometric passports and ID cards and those supplied through ASAN Centres; opportunities for the presence of public businesses in ASAN Centres; and data security, and was followed by business-to-business meetings.