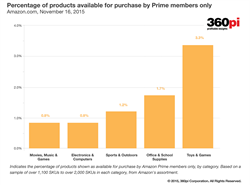 Using marketplaces, availability, and assortment strategically will help you move beyond price to win customers and margin this holiday.
(PRWEB) November 25, 2015
Ottawa, Canada: This holiday, dynamic pricing and competitor moves are keeping retailers on their toes. However, reacting and competing with assortment and available inventory presents a much bigger challenge. With little ability to instantly address out-of-stocks or unexpected demand, retailers must play a difficult game – sell the products they sourced months ago at healthy margins, while also limiting the risk of post-holiday markdowns and clear-outs.
Holiday Assortment Games, released today, is the latest report in 360pi's Holiday Insights Series.

Hedging their bets? Walmart.com shows big shifts in availability of best-selling toys between Nov. 16 and 23.
Walmart announced their Top Toy Predictions early in the season, highlighting twenty-five trending toy and game items. However, on November 16th, one week before Black Friday, all of these items were out-of-stock on Walmart.com; but just three days later on Nov. 23, twenty-four of these toys were back in-stock with two available for in-store pickup only.
"While we can only speculate, this could indicate a strategic move by Walmart to limit online availability earlier on popular items to protect margins as competitive supply runs thin in order to drive store traffic and conversions during the critical Black Friday week," said Jenn Markey, VP Marketing, 360pi. "However, this would be a risky bet to make since it could also negatively impact overall holiday store traffic and in-store sales."
As a side note, 360pi found that only seven of Walmart's top twenty-five toy predictions made it into Amazon's top hundred best selling toys between Nov. 1 and Nov. 16. "This raises interesting questions," added Markey. "Are these products really top performers for Walmart, did they miss their mark, or is Walmart expecting this prediction to push more sales on these items?"
Marketplaces deliver the promise of the endless holiday shelf.
To increase assortment and availability, a number of major retailers have opened up their e-commerce platforms to accommodate third-party sellers, creating an impression of endless assortment and availability; however, retailers' marketplace strategies vary widely.
"We see a number of different approaches to handling marketplaces and the competition they can present," said Joleen Wroten, Lead Analyst, 360pi. "Walmart uses its marketplace environment to expand its assortment, but not necessarily compete with itself. Amazon, on the other hand, commonly directly competes with its marketplace sellers and we suspect uses marketplace sales to identify accelerating or waning shopper demand for specific products in order to hone their own assortment."
Amazon offers some of its assortment exclusively to Prime customers.
Using assortment levers to add value for loyal Prime customers and building on the experience of Prime Day, Amazon has expanded its Prime-exclusive assortment: products that are available for purchase by Prime members only. For example, that includes 3.3% of the sampled assortment of Toys & Games, an aggressively competitive holiday category that has been traditionally plagued by out-of-stocks. This strategy could help ring up higher holiday sales; according to an analysis by Consumer Intelligence, Prime customers spend an average of $1,500 per year compared to $625 per year for non-members.
"At this point in the season, it is important to track and review what in-stock positions you can leverage against competitive outages and identify opportunities to increase margin," said Jenn Markey. "Using marketplaces, availability, and assortment strategically will help you move beyond price to win customers and margin this holiday."
Holiday Assortment Games is part of 360pi's third annual, award-winning Holiday Insights report series, featuring a Holiday Count-Down Calendar, a must-have for every retailer and brand this holiday season. Subscribers to the program receive holiday product and pricing trend reports, pre- and post-holiday analysis webcasts, and Top 100 Most-Wished-For Toys and Electronics summaries, among other category insights. These insights cover the strategies and tactics for a number of major retailers, including but not limited to, Amazon, Walmart, and Target, over the course of the holiday season. For more information about how 360pi's product and pricing solutions can help retailers and brands win this holiday season, please contact 360pi here.
About 360pi
360pi derives profitable insights from product and pricing big data to help leading omnichannel retailers, etailers, and brand manufacturers compete and win with shoppers. 360pi's customer base accounts for over $US200 billion in annual product sales and includes Ace Hardware, Build.com, and Overstock.com, along with several Fortune 500 consumer products companies. With the majority of in-store purchases being influenced online, 360pi helps retailers and brands successfully navigate the multi-channel landscape with real-time insight into who is selling what, where, when, and for how much. Ultimately, 360pi customers make smarter decisions faster to drive increased revenues and margins across all channels.