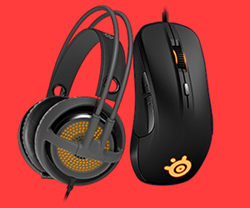 Chicago, IL (PRWEB) November 25, 2015
WHAT: On Thursday November 26th, SteelSeries invites customers to shop for Black Friday deals exclusively online at https://steelseries.com/ while supplies last.
WHO: SteelSeries, the leading global manufacturer of gaming peripherals.
WHY: The following Black Friday deals will be available for purchase starting this Thursday:

Rival 300 Black & Siberia v3 Prism (MSRP: $199.99/€209.99) (Discount: $109.99/€99.99)
Rival 300 White & Siberia v3 White (MSRP: $159.99/€169.99) (Discount: $89.99/€79.99)
Sensei RAW Rubberized & Siberia RAW Prism (MSRP: $119.99/€129.99) (Discount: $69.99/€69.99)
For a limited time, get more than 50% off of bundles containing the Stratus and Stratus XL gaming controllers. Pair a controller with a Siberia headset for maximum savings. SteelSeries will also have additional discounts available to customers that will be exclusively available on the SteelSeries web shop.
WHEN: November 26th at 5PM CST until November 29th 11PM CST.
WHERE: http://www.SteelSeries.com/
MEDIA CONTACT: Mallory Loar, 630-877-0322, mallory(at)SteelSeries(dot)com
About SteelSeries
SteelSeries is a gaming brand that leads the market in building peripherals with quality, innovation and purpose. The company's passion has been the driving force behind many first-to-market innovations and technologies that continue to become the industry standard and have-to-have requirements of gamers. The global brand continues to support the growth of competitive gaming tournaments and electronic sports leagues through professional team sponsorships, partnerships and community support. The company surrounds itself with the passion and the commitment to being the best. It is with this mentality that SteelSeries chooses to partner with some of world's most respected and recognized brands that work together to push the growth and evolution of the gaming industry into an even greater proposition http://SteelSeries.com. Follow SteelSeries on social media for the latest updates at http://facebook.com/SteelSeries and be a part of the conversation on Twitter @SteelSeries.