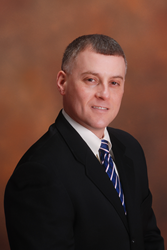 I am very proud of what we have accomplished during my time as President and look forward to being part of the Company's continued success.
Rochester, NY (PRWEB) December 02, 2015
Klein Steel Service Inc., a full-line metals service center with a worldwide distribution network, today announced that its Board of Directors has unanimously approved a succession plan for executive management of the Company.
Effective November 1, 2015, Todd Zyra assumed the role of Chief Executive Officer. He will continue to serve as the Company's President. In this role, he will maintain overall responsibility for Klein Steel, including all lines of business and all functional groups, while assuming a heightened role in driving the strategic vision and growth strategy for the Company.
Before joining Klein Steel in 2008, Zyra was a General Manager at Nextel Partners, a provider of wireless digital communications services, where he led a $41 million market directing multiple sales and distribution channels. He began his career with the United States Marine Corps as an infantry noncommissioned officer serving on an antiterrorism security team.
"On behalf of all Klein Steel team members, we want to thank Todd for his leadership and strong operational guidance in the two years since he was appointed President," said Joe Klein, Owner. "He has guided Klein Steel through a period of extraordinary growth during a steel industry downturn where the Company's annual weight shipped significantly outperformed the market average."
"I am very proud of what we have accomplished during my time as President and look forward to being part of the Company's continued success. Klein Steel is a customer-centric company with an unparalleled culture that's in business to make our partners more successful. I'm excited by the opportunities ahead as we continue to invest in our people, processes and technologies," Zyra said.
On November 1, 2015, Michelle Westrich, CPA, was promoted to Chief Financial Officer, a role that actively ensures the continued financial stability of Klein Steel by guiding Klein Steel's finances and long-term investment opportunities.
Before joining Klein Steel in 2009, Westrich, a Certified Public Accountant, worked in Corporate Finance at Eastman Kodak Company, a technology company focused on imaging, where she managed complex external reporting requirements. She began her career at Arthur Anderson where she was responsible for corporate financial statement audits.
"I want to congratulate Michelle on her expanded role," stated Zyra. "Over the years, she has continually proven herself to be an invaluable asset to this organization. I have the utmost confidence in her and in the rest of the senior leadership team that they will continue to drive innovation and continuous improvement, ensuring the growth and future of Klein Steel."
Founded in 1971, Klein Steel Service Inc. is a premier steel service center with locations throughout New York. With over 3,200 line items of carbon, stainless steel, and specialty metals, the company offers a full range of value-added processing, an integrated distribution network that extends the Klein Steel reach worldwide and compliance to strict NQA-1 guidelines. Klein Steel is acknowledged as an industry leader having been named the 2015 winner of the Platt's Global Metal Distributor of the Year award, a finalist in 2014 and 2015 for the Service Center of the Year award from American Metal Market, a 2015 winner of a Rochester Top Workplaces award, a 2015 Rochester Top 100 company, a 2012 recipient of the Rochester Business Ethics Award, and winner of the IndustryWeek Best Plants award in 2011.
Our Mission: Klein Steel strives to be the premier supplier of metals by providing solutions to meet our partners' needs. We attract and engage the best teammates, suppliers, and customers while embracing innovation and continuous process improvement.
For more information about Klein Steel, visit http://www.kleinsteel.com.
#ROC #promotions
####