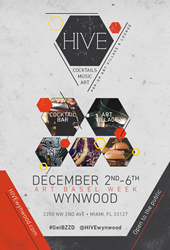 Miami, FL (PRWEB) November 30, 2015
Located right in the center of Miami's Wynwood Art District (2250 NW 2nd Ave) the HIVE Art Village & Lounge, a free, five-day cocktail, music and art experience that is open to the public will be kicking off on December 2nd for this year's Art Basel. With cocktails being one of the main components of the event, the brand new zero calorie, zero sugar, all-natural cocktail mixer, R.S.V.P.® Cocktail Skinnies has signed on to be the premier cocktail mixer during HIVE.
R.S.V.P.® Cocktail Skinnies just launched in Miami in September 2015 and will be serving their signature cocktails at their own "Skinny Bar" located in the HIVE Lounge area from Wednesday, December 2nd to Sunday, December 6th. In the lounge area there will also be daily "Behind The Bar" series hosted by Miami Club Rum, this will consist of close-up, live demonstrations on how to create one-of-a-kind cocktails by Miami's leading mixologists. During the series one of these master mixologists will be demonstrating how to create R.S.V.P.®'s three flavored cocktails, the Miami Breeze, Baja Margarita and NY Cosmo. In addition to learning how to create these simple, low calorie cocktails at home, attendees will also be able to sample the drinks during the event while enjoying live acoustic performances and DJs spinning all day and night.
In addition to the art of cocktails, HIVE who is expecting over 80,000 people this year walking through the Wynwood based pop-up lounge will also feature a 70 foot state-of-the-art mobile kitchen serving food by Chef Ralph Pagano from Naked Taco, an outdoor art village with live installations and the Art Village that will feature 100's of arts & crafts vendors and boutiques showcasing and selling only original hand-crafted art.
For more information about R.S.V.P.® Cocktail Skinnies or to receive media samples, please contact April Donelson at april(at)adinnyc(dot)com.
About R.S.V.P.® Cocktail Skinnies-Made with only the best quality 100% plant-based ingredients, no sugar, no preservatives and most importantly zero calories R.S.V.P.® Cocktail Skinnies are truly one of a kind. All of the ingredients are completely recognizable and they are extremely easy to make. No guesswork, fancy ingredients or bar utensils needed, just mix one R.S.V.P.® skinny pack with six ounces of water and one ounce of your choice of liquor, then shake or simply stir and enjoy. The three unique flavor profiles include happy hour favorites from different regions across the U.S.: Miami Breeze, Baja Margarita and NY Cosmo.