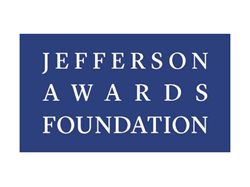 Our mission at the Jefferson Awards Foundation is to realize and activate public service projects to create impact nationally and globally, but it's through the people on the ground, locally, that these activations have become a reality
New York, NY (PRWEB) November 30, 2015
The Jefferson Awards Foundation, the nation's most prestigious and longest-standing organization dedicated to powering and celebrating public service, has made notable strides in 2015 to expand its reach nationally and position itself for further growth. With the launch of four new Leadership Communities, a 30 percent increase in staff and continued growth of its key programs, the Jefferson Awards Foundation (JAF) is organizing and connecting a culture of public service across the country with impact reaching all corners of the world.
In the past 11 months, JAF launched four new regions in Los Angeles, Eastern Massachusetts, New York City and Houston, activating public service projects in each. The Los Angeles office, funded by JAF's Board Chair, Joseph Sanberg, is already working with the Compton Unified School District to bring all three of JAF's youth-centered programs to the district. Compton is comprised of 35 schools and 23,000 low-income students. The Eastern Massachusetts office, supported by National Grid, has expanded public service initiatives in and around Brockton, Mass.
In addition to regional expansion, the Jefferson Awards Foundation increased its staff by 30 percent, including regional directors and program managers in the Indianapolis, San Francisco / Bay Area and New York City regions to lead local programs and activations. Currently, JAF operates programs in 15 regions, which include: Central Florida, Chicago, Delaware, Eastern Massachusetts, Greater Los Angeles, Houston, Indianapolis, Minnesota, New Jersey, New York, Pittsburgh, San Francisco Bay Area, South Carolina, Toledo and Washington D.C.
"Our mission at the Jefferson Awards Foundation is to realize and activate public service projects to create impact nationally and globally, but it's through the people on the ground, locally, that these activations have become a reality," said Hillary Schafer, Executive Director of the Jefferson Awards Foundation. "The growth of the Foundation in 2015 is a testament to our commitment to create a culture of service through the help of our partners and support of our programs. I look forward to what the future holds next."
Students In Action (SIA), one of JAF's key student-focused programs, continues to produce positive results in low-income schools. SIA is an intensive leadership training program that promotes youth-led service and measured impact. In 2015, the Foundation trained 38 percent more students from close to 500 schools across the nation with particular emphasis on a lower income population. JAF measures dual outcomes – community impact and impact on student leaders trained. On the former, JAF students report more than 3,000,000 hours of service, which carries a $63 million value. On the latter, in a survey of SIA faculty advisors, 99 percent of at-risk students involved graduated high school, with 81 percent receiving college scholarships.
The Jefferson Awards Foundation's other two youth-focused programs, LEAD360 and GlobeChangers, continue to thrive. The GlobeChangers program supports and trains young people under 25 to turn their big idea into a national or global service project. GlobeChangers report that the number of lives they impacted through their programs increased from 1.25 million to 5.25 million. In early October, JAF announced an update for the 2015 LEAD360 program, JAF's platform that powers youth service ideas (2015 projects addressed hunger, education and health & wellness). So far, participants have donated over 15,000 bags of healthy food, more than 273,000 soccer balls and over 47,000 boxes of school supplies through LEAD360.
The organization has also seen more than 300 percent growth in its network of National Partnerships. JAF seeks opportunities to strategically work with others who share their vision and values, working to amplify partners' successes and share assets in order to drive greater impact. Uniquely, JAF recognizes that all non-profits have limited resources and unique strengths, and that in working together, more can be accomplished. JAF works with over 50 diverse groups of like-minded non-profits, businesses, and celebrity- and sports- oriented groups looking to drive social change. This year that list includes organizations such as generationOn, NFL Player Engagement, YSA, PeaceFirst, Free The Children and Chegg.
As the year of nonprofit growth comes to an end for the Foundation, they will be hosting a year-end campaign that highlights all 5 of its key programs by telling a constituent story a day for all 31 days of December. To follow along with the campaign visit blog.jeffersonawards.org.
About the Jefferson Awards Foundation
The Jefferson Awards Foundation is the country's most prestigious and longest standing organization dedicated to powering and celebrating public service. JAF's programs accelerate and amplify service, training and activating Americans to take action, and to be leaders in schools, communities, workplaces and the world. With celebration, JAF says thank you, shares the stories of America's best citizens, empowering them to do more and inspiring all to take action. To learn more about the Jefferson Awards Foundation, visit: JeffersonAwards.org or engage with our community on Instagram, Twitter and Facebook.