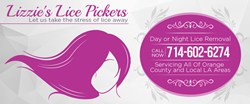 Orange County, CA (PRWEB) November 27, 2015
Lizzie's Lice Pickers just announced a special promotion that will run throughout the holiday season
The company is offering customers 10% off of their purchase of lice treatment product. In addition, customers will receive a complimentary head Check when they purchase any treatment at full price. According to a company spokesperson. "Finding lice is a sure way to ruin the holidays, so we encourage all of our customers to take advantage of this special to ensure a peaceful and lice-free holiday"
Lizzie's Lice Pickers is a professional lice removal service for adults and children. The company has a storefront location in Orange County, California and they send professionals to private homes to treat clients in private.
Lizzie's Lice Pickers uses only non-toxic, natural, multi-enzyme-based and hypoallergenic products and hires only trained professionals who specialize in the identification and removal of lice on children and adults. The company founder was motivated to start the business after experiencing a less than successful treatment with traditional chemical-based products.
Lizzie's Lice Pickers offers several services. Most clients with mild to moderate cases of lice choose the single treatment, but the company does offer a two-treatment package for those with severe cases. As mentioned, earlier, Lizzie will send staff to private homes to treat clients there and she offers a do-it-yourself kit for those who want to go it alone. As a preventive measure clients can also get a thorough head check. The 10% holiday discount applies to all product purchases.
Parents interested in taking advantage of this special can contact Lizzie's Lice Pickers by phone at 714.602.6274 or by visiting their website at http://www.lizzieslicepickers.com. The website also features information on all of the company's products and services.
###