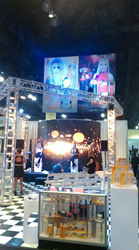 "At GKhair, we were very proud to exhibit our Juvexin Cream Color.The results that our colors delivered were simply incredible and increased customer trust in us!" - Karina Bucher, Van Tibolli Sales Manager For Latin America
San Juan, Puerto Rico (PRWEB) November 30, 2015
GKhair & Tibolli team members and artists were excited and proud to be an active part of the San Juan Beauty Show held on November 8th and 9th at the Puerto Rico Convention Center, San Juan Puerto Rico. The star-studded glamorous event was attended by media personalities, hair artists, renowned beauticians and top of the line fashion journalists. The San Juan Beauty Show carries immense credibility among Puerto Rican and South American beauty professionals bringing in the crowds to see all the industry has to offer.
Van Tibolli, Corp was a first-row participant in the show and their extensive hair care range was showcased and launched during this mega event.
GKhair introduced the New Cashmere weightless argan cream infused with Juvexin – the proprietary anti-aging keratin and protein blend. Apart from this, the signature Shield Series was also launched in Puerto Rico that included:

Shield Additive- Salon Professional
Lock Me Color Masque- Salon Professional
Juvexin Shield Shampoo UV/UVA
Juvexin Shield Conditioner UV/UVA
GKhair's New Cashmere Weightless Argan Cream is a specialized product - infused with Juvexin - which has been developed to complement GKhair's products, services and accessories used at home. This cream adds additional shine to the hair which helps maintain the user's hairstyle for longer time periods while keeping it healthy, vibrant and natural looking. The GKhair's Cashmere Weightless Argan Cream utilizes the active chemistry of Juvexin – Our signature anti-aging keratin – with Argan oil as the hair styling catalyst. A mix of Argan with Juvexin is what makes this cream stand out of the crowd.
The GKhair Shield Series has an advanced formulation that effectively creates new bonds, which makes the hair stronger and healthier while delivering nourishing nutrients to protect each and every hair strand. The primary function of the new GKhair Shield Series is to provide UV/UVA protection to the hair and the color. The Juvexin integrated mechanism of the products in this series works throughout the day and blocks the UV/ UVA rays that cause hair dryness, cuticle damage and split ends. Extensive research and development has been undertaken before debuting the series in the market. The GKhair Shield Essentials includes the Salon Professional Products Shield Additive and Lock Me Color Masque as well as the Juvexin Shield Shampoo and Juvexin Shield Conditioner to be used as home to maintain freshly applied color and/or other GKhair services.
Moreover, the special showcase product TIBOLLI Trioxxy Hair Treatments fought frizz and repaired damage on the beautiful Puerto Rican models on stage who flaunted their glossy sleek hair styles during the show.
All in all, The San Juan Beauty Show was a success statement for the GKhair and Tibolli. The educationists, hair stylists and beauticians extensively used and recommended our products to show case their skills and work.