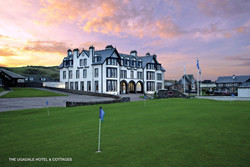 'The blending of historic architecture with modern hospitality amenities is one of WC&A's strong suits.' -- Steve Young, WC&A Partner and Director of Design
(PRWEB) December 03, 2015
Des Hague, Co-Founder of Aegis Enterprises and Partner of WC&A and William Caruso, Founding Partner of WC&A, are pleased to announce that WC&A's recent Hotel Hospitality Planning and Design at Scotland's Village at Machrihanish Dunes was the recipient of this year's prestigious Scottish Golf Tourism Awards for "Best Catering" in 2015. In addition, the The Ugadale Hotel won "Best Hotel." For more information about the awards, visit http://goo.gl/pKOrGo.
According to SGT's website, this award recognizes "great golfing traditions, a good links course, a golf-friendly staff and superior hotel facilities." The Ugadale Hotel is known as one of the finest hotels in all of Scotland and has earned four-stars from the Scottish Tourism Board, as well as annually receiving TripAdvisor's Certificate of Excellence.
Winning "Best Catering" for its great selection of quality food, Machrihanish Dunes offers its guests 5 different dining experiences to choose from, each with its own unique atmosphere and culinary style.
"It was great to hear that Ugadale Hotel and Catering services both won Annual Scottish Golf Tourism Awards," said Steve Young, WC&A Partner and Director of Design. "What an amazing experience to have worked with Southworth Development on the historic Ugadale Hotel and also the Royal Hotel in the Machrihanish Dunes. WC&A designed and implemented new pub style bars, new back of house support elements and kitchens. The blending of historic architecture with modern hospitality amenities is one of WC&A's strong suits. We were able to implement the best of today's culinary equipment technologies while maintaining the historic integrity of the building," concluded Young.
In 2012, The Ugadale Hotel was honored by the Scottish Hotel Awards as Scotland's "Golf Hotel of the Year."
"Creating excellence is what we are all about," stated Hague. "World-class hospitality design depends on collaboration and teamwork between all parties involved in the planning and design process."
About WC&A, Inc.:
William Caruso & Associates, Inc. specializes in commercial food/beverage and laundry facilities planning and design services. Headquartered in Denver with offices in Athens, Berlin, Duesseldorf, Philadelphia, San Francisco and Scottsdale, WC&A has completed over 12,000 projects in 35 countries, an unmatched record in a very specialized industry. WC&A's diverse project portfolio includes completed food and laundry service facilities for hotels, universities, schools, correctional systems, hospitals, corporate headquarters, convention centers, stadiums, arenas, and others.
For more information about WC&A: http://www.wcarusoassoc.com
Contact: Renate Siekmann
William Caruso & Associates, Inc.
8055 East Tufts Avenue, Suite 1320, Denver, CO 80237
Phone: 303.649.1600 x211
Email: rsiekmann(at)wcarusoassoc(dot)com
About Des Hague
A renowned executive with over twenty-five years of leading global public and private companies, Des Hague has established himself as an innovative thinker in the international business world. His forward-thinking approach pushes companies toward sustainable growth, granting them a position as resilient competitors within their respective industries. Hague most recently was the CEO and President of Centerplate, Inc, the largest event hospitality firm in North America. source: http://deshague.com . Hague also serves on the boards of DVETelepresence, PING HD, WC&A, Inc, and the Stamford Youth Foundation along with advising on several start-up ventures.
Along with his professional projects, Des Hague contributes a significant amount of time and energy to non-profit charitable work. Hague has helped raise more than $100 million over the past few years for many non-profits, including the Stamford Youth Foundation, a local organization offering multiple after-school programs for young people, and The Journey Home, a Baltimore-based Foundation fighting homelessness. Hague views AEGIS, LLC. as a perfect blending of business and philanthropic activities.
For more about Des Hague, visit: http://deshague.com, http://deshaguereviews.com
Des Hague - LinkedIn : https://www.linkedin.com/in/deshague
Contact:
DesHague.com
EMail: deshague(at)aegisenterprisesllc(dot)com