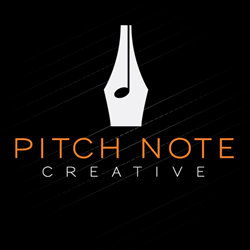 St. Louis, MO (PRWEB) November 25, 2015
Pitch Note Creative - a St. Louis based public relations, marketing, and design firm – won one platinum award, two gold awards, and one honorable mention from the 2015 international MarCom award competition.
MarCom recognizes outstanding creative achievement by marketing and communication professionals from all over the world. There were over 6,500 entries received from throughout the United States, Canada, and 15 other countries in the 2015 competition.
Pitch Note Creative received a platinum award in the audio/video category for excellence in digital video creation, animation, and creativity for the Grantmamas brand video. Pitch Note worked closely with Grantmamas, an online social learning company, to create a brand video that provides an overview of their services and encourages viewers to take action.
"We were looking for a way to take information about what our company does and who it is for, and break it down so it would be easily understood by busy moms who may not have time to research our company and peruse the entire Grantmamas website," said Dr. Toni Rockis, co-founder of Grantmamas. "Pitch Note created an animated brand video that speaks directly to our target audience and really showcases our brand."
Pitch Note Creative received a gold award in the digital media category for excellence in creativity, design, and production of online digital content for an infographic campaign. Pitch Note worked closely with CompareCards, a credit card comparison company, to develop a monthly infographic campaign, consisting of both static and interactive infographics to help educate the public on personal finance topics.
"One of our primary goals is to improve financial literacy in both children and adults," said Chris Mettler, founder of CompareCards. "Pitch Note was able to transform complicated financial concepts into creative infographics that are easy for our consumers to understand. This program has been instrumental in helping us communicate and educate the public about important financial topics."
Additionally, Pitch Note received an honorable mention in the strategic communications category for excellence in communications and public relations for CompareCards' financial education center.
Lastly, Pitch Note Creative received a gold award in the print media category for excellence in writing, print creativity, and promotion of their very own marketing materials.
"It is an incredible honor to be recognized for our work across so many diverse categories. It really showcases our abilities and the range of services we offer to our clients," said Christine Linder, co-founder of Pitch Note Creative. "The real value and reward is bringing our clients' visions to life and producing quality work that both exceeds expectations and produces results."
About MarCom Awards
MarCom Awards is administered and judged by the Association of Marketing and Communication Professionals. The international organization consists of several thousand creative professionals. The Association oversees awards and recognition programs, pro-vides judges and sets standards for excellence. Judges are industry professionals who look for companies and individuals whose talent exceeds a high standard of excellence and whose work serves as a benchmark for the industry.
About Pitch Note Creative
Pitch Note Creative is a full-service public relations, marketing and design agency that offers small to medium-sized businesses access to a team of experts that can fulfill all PR, marketing and design needs on time and on budget. Our focus is to understand each client's business goals and to create measurable solutions that generate positive results to their bottom line, all while engaging them in fresh and progressive ideas. That translates to how we uniquely approach every project and every client.