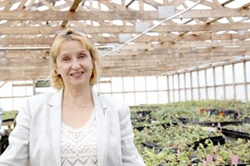 Prairie Grove, Arkansas (PRWEB) December 01, 2015
Honeyberry varieties created in a private lab in Prairie Grove will now be enjoyed by people across the globe.
The varieties, developed by Lidia Delafield of Prairie Grove, will be shipped worldwide by a Canadian company that produces more than a million plants each year and is one of the largest suppliers of tissue culture plants in North America. The honeyberry is a relative of honeysuckle with a sweet edible fruit resembling blueberries. While popular in countries such as Russia and Japan, the fruit is still relatively unknown in the United States.
Born in Russia, Lidia has been breeding and developing honeyberries in a closed lab in Prairie Grove for about nine years. She has grown honeyberries for more than 40 years and first grew them in her own garden in Russia.
Prior to coming to the United States, Lidia worked with the Russian Academy of Sciences for about 12 years.
Lidia is owner of Berries Unlimited of Prairie Grove. Her husband, Hare Delafield, is chief financial officer and marketing director. The couple has a 20-acre berry farm located just past the Muddy Fork bridge, off U.S. 62B, in Prairie Grove where Berries Unlimited ships honeyberry, blackberry, raspberry, blueberry, grape and some exotic fruit plants anywhere in the United States, except Alaska and Hawaii.
Hare Delafield said Berries Unlimited is the largest exporter of honeyberry plants in Arkansas and the United States but is not able to keep up with the demand for its honeyberry plants.
Lidia has signed a contract with AgriForest Bio-Technologies Ltd. of Kelowna, British Columbia, Canada, to grow her honeyberry plants. The first week the plants were on the market, the firm sold 100,000 plants.
AgriForest works with thousands of commercial growers that want to grow honeyberries. The result, Delafield believes, is that honeyberries will be seen in grocery stores in the future next to blueberries in the produce aisle. In addition, the contract opens up the market to honeyberries being more widely distributed in grocery stores and through other venues in other products, such as jams, jellies, juice, wine or syrup.
Lidia uses high tech agriculture. Plants are developed from tissue cultures in her lab. She takes varieties already in place, many from Russia, and improves on them.
She considers the "Happy Giant" honeyberry her ultimate honeyberry. The plant has huge berries that are about one inch in size with a sweet, tangy taste. Other varieties she has developed are named the Blue Mountain, Blue Heaven, Blue Storm and Giants Heart.
Lidia continues to develop new varieties and said she chooses what she likes by taste and shape. Honeyberries come in different shapes. Some look like bells, icicles, a pinwheel or spindles.
"My purpose is not to create more blueberries. We have enough of them," Lidia said.
Logie Cassells, owner of Love Honeyberry Inc., in Nova Scotia, Canada, has been involved in honeyberries since 2010 and said Lidia has one of the best tissue culture labs in North America. Cassells worked with Lidia and AgriForest to bring the two together.
In a telephone interview, Cassells said he believes the honeyberry market will outgrow the blueberry market because honeyberries make a "world class alcohol." Making wines, gin and even beer with honeyberries will be the largest market for the fruit, he said.
The honeyberry market will become a billion-dollar industry over the next 30 years, Cassells predicts. For Berries Unlimited, "they will be a lot bigger than they are today," he added.
A history of honeyberries on the Berries Unlimited website says the honeyberry plant bears cream white flowers in early spring with the fruit maturing in early summer. Honeyberry plants are easy to grow because they do well in most soils. Blooms and buds are tolerant to temperatures as low as 46 degrees Fahrenheit. The plant does not have to be pruned, except for cosmetic reasons. It is fast growing, hardy to pests and disease and this enables the plant to be grown organically.
The berry is known for its health benefits and is called a superfood, along the lines of other berries.
The AgriForest website states that the company is a nursery established in 1984. It produces high quality tissue culture trees, shrubs, berries and other plant. The website explains that tissue culture is a process to establish plant tissue that is used to produce multiple plants over a short period. When roots are formed, plants are moved from the laboratory to greenhouses.
Website: http://www.berriesunlimited.com/
Email: berriesunlimitedusa(at)gmail(dot)com