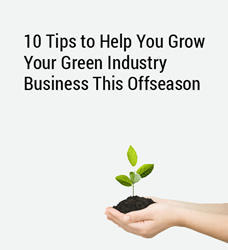 The key to growing a green industry business in 2016 is working on the business this offseason.
St. Paul, MN (PRWEB) November 27, 2015
HindSite Software, the premier provider of field service software to the green industry, recently announced a new webinar designed to help green industry businesses grow in 2016. Scheduled from 1 to 2 p.m. Central Time on Tuesday, Dec. 1, 10 Tips to Help You Grow Your Green Industry Business This Offseason will deliver 10 ideas green industry businesses can leverage to fuel their growth in 2016.
For many green industry businesses, the offseason is a time to relax and recharge. That's great, but their growth in 2016 depends on the plan they create this offseason. The businesses that put in the effort during the slower winter months are the ones that are most likely to see the most growth.
"The key to growing a green industry business in 2016 is working on the business this offseason," explains Chad Reinholz, Sales and Marketing Director at Hindsite Software. "In this webinar, we'll show 10 relatively simple things green industry businesses can do to set themselves up for growth in 2016."
As green industry business owners know, goal-setting is an important part of growth. Attendees will learn how to set short and long term goals, and then cascade them throughout the organization so that every member of the team is working toward the same goal.
"Putting together a marketing plan is also an important winter activity," explains Reinholz. "As a long-time marketer myself, I know that setting goals, creating strategies to meet those goals and determining the best tactics for those strategies is vital to successful marketing campaigns. And successful marketing campaigns lead to growth."
HindSite's software can be another growth catalyst. According to the 2015 Green Industry Benchmark Report, green industry businesses that use HindSite were twice as likely as their peers to experience year-over-year revenue growth in excess of 20%.
Visit http://info.hindsitesoftware.com/10-tips-to-help-you-grow-your-green-industry-business-this-offseason-webinar to learn more and to register for the webinar.
About HindSite Software
HindSite Software has helped contractors better manage and grow their business with field service software since 2001. Initially designed as irrigation business software, HindSite today assists service businesses with scheduling and billing, contact management, field data collection, and invoicing in QuickBooks®, and Sage50®. When used by lawn care businesses, this paperless lawn care software has been proven to increase efficiency and organization, meaning greater profit potential with less administrative time.