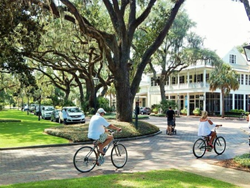 Baby boomers are increasingly moving out of large metropolitan areas to smaller towns and rural locales for several reasons, including greater overall safety, better quality of life, and lower day-to-day cost of living.
Libertyville, IL (PRWEB) November 27, 2015
Marian Schaffer, Principal and Founder of Southeast Discovery, a real estate consulting firm specializing in guiding Baby Boomers with their real estate needs in the niche markets of retirement relocation and second homes in the Southeast region, recently commented on an uptick in the trend of baby boomers relocating out of major metropolitan markets to rural areas and smaller towns, and shared seven factors driving this trend.
"According to a September 2009 United States Department of Agriculture report, 'Baby Boom Migration Tilts Toward Rural America,' baby boomers – those born between 1946 and 1964 – are moving to rural locales in increasing numbers, especially areas that feature scenic amenities and lower housing costs," said Schaffer. "Over the last few years as we've been helping our clients relocate, especially recently as terrorist attacks in large urban areas have created more anxiety for Americans, we've seen an uptick in this trend."
Schaffer shared seven reasons she thinks boomer relocation out of major metropolitan areas to rural areas and small towns will continue to increase:
1. "After an increase in terrorist attacks in major metropolitan areas in recent years, many Americans are feeling anxious about living in large cities, and believe rural areas are safer, relatively speaking," said Schaffer.
2. "Many of our clients had to live in major urban areas because that's where their employment was," said Schaffer. "Now that retirement is on the horizon, they can live wherever they choose, and many want to move to smaller towns and cities where they feel the overall quality of life is better."
3. "Baby boomers are seeking lower cost of living areas in the U.S., and rural areas are typically less expensive than major urban centers," said Schaffer.
4. Schaffer also noted that her baby boomer clients are seeking locales that offer a slower, more relaxed pace of life, where the overall quality of life is higher. "We find our clients today want to live in an area that offers a more easy-going lifestyle with less road traffic and less overall congestion, and rich opportunities for outdoor recreation away from the hustle and bustle of a major city."
5. "Our baby boomer clients are also seeking environments where people are friendly, community-oriented and welcoming, and they feel they can find these attributes more readily in rural areas and smaller towns," said Schaffer.
6. "In this age of the internet, many who are still working are able to take advantage of remote employment positions, making it possible for them to live where they choose," said Schaffer. "When this is the case, our clients typically want to live in an area that provides natural amenities like lakes, beaches, mountains and rivers, and the opportunity to enjoy healthy pursuits like biking, hiking, golf, tennis, and walking their dogs."
7. Schaffer has noticed in her work with baby boomer clients who are relocating, and in general with people of all ages, that increasingly over the last few years more people are gravitating to a simpler way of life. "What we have found in our work is that many want a lifestyle similar to the way things were 30 to 50 years ago: they want to experience a more personalized way of life, in a home town community where people know their neighbors and fellow citizens, and where people look out for one another. Smaller towns and rural environments offer this kind of environment where larger cities often cannot," said Schaffer.
About Southeast Discovery
Since 2004, Southeast Discovery has been a trusted resource for candid information and insight on communities, developments, and general real estate in the Southeast. Through its highly-ranked web portal, newsletter and blog and its one-on-one work with clients, Southeast Discovery helps buyers actively looking for a retirement or second home in the Southeast navigate the process of identifying the right area and community for their needs. To learn more, visit http://www.southeastdiscovery.com/.