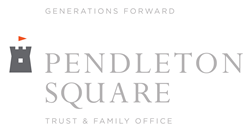 company will not offer financial and investment products that compete with registered investment advisors (RIAs), brokerage firms or banks
NASHVILLE, TN (PRWEB) November 30, 2015
Pendleton Square Trust Company, LLC has become the first independent public trust company chartered by the Tennessee Department of Financial Institutions since a 2011 overhaul of state trust laws positioned Tennessee as one of the most progressive trust states in the country.
Robin Satyshur, veteran advisor to high net worth families for more than two decades, is chief executive officer of Pendleton Square Trust & Family Office, which will initially have trust offices in Nashville and Chattanooga and has board presence in other parts of the state including Memphis.
Betsy Blunt Brown will serve as president of Pendleton Square Trust Company, Steve Davis will be chief trust officer and Derek Church chief fiduciary officer. Memphis businessman and investor Brad Champlin has been appointed the trust company's first board chairman.
Pendleton Square will offer trust administration services for personal and charitable trusts, estate administration, along with family education, risk management, governance, succession planning, wealth transfer, mentoring and comprehensive reporting. "As an independent trust company, we are able to help individuals, families and legal entities navigate financial complexities without conflicts or perceived conflicts of interest that often present themselves when engaged in active investment management," Satyshur said.
Pendleton Square's business model is designed to work with families and their respective financial teams that often include an investment advisor, attorney, accountant, private banker, life insurance advisor and others who have specialized expertise and an existing relationship with the family. "The company will not offer financial and investment products that compete with registered investment advisors (RIAs), brokerage firms or banks," Satyshur said.
Tennessee's trust climate was ranked third best in the U.S. in the Fourth Annual Oshins Dynasty Trust State Rankings published last month. The rankings, compiled by Nevada lawyer Steve Oshins, evaluate states and their trust laws based on asset protection, ability to accomplish trust intent and taxation, among other factors.
"Tennessee trust laws are among the most progressive in the country," Brown said, "and we think there is an opportunity to turn that into a real economic advantage to the state and its citizens. We believe we are in a unique position to establish Tennessee as an industry leader, attracting generational trust administration from other parts of the country."
Satyshur began her career at EDS in Dallas where she held various financial and management positions and subsequently assumed the role as chief manager and treasurer of a single-family office. In 2005, she became treasurer and chief operating officer of The Family Office, LLC, a single-family office serving the founding family of Dollar General Corp. She helped charter Tennessee's first private trust company in 2010 and currently serves as an independent director for a Tennessee-chartered family private trust company.
Brown was most recently vice president and regional manager at Cumberland Trust, where she helped establish Cumberland Trust's Chattanooga and Atlanta offices. Prior to that, she was vice president at JPMorgan Private Bank. A partner in The JumpFund, an angel fund investing in female-led businesses in the Southeast, she spent a decade with SunTrust Robinson Humphrey as a director of Fixed Income Origination within the bank's Debt Capital Markets group.