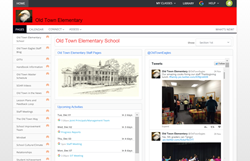 We hit the ground running, getting people on board without any training. Every department [in the school district], got really creative about how they could use it.
Goshen, Indiana (PRWEB) December 01, 2015
The fourth-largest school district in North Carolina, Winston-Salem/Forsyth County (WSFC), chose Haiku Learning as its district learning platform this summer and is already achieving remarkable results after just two months.
While many school districts struggle with large-scale technology rollouts, the results that WSFC has achieved with an optional initiative in an 81-school district, demonstrate wide-scale enthusiasm and favorable reception from the entire school community in a short period of time:

Over 1,400 classes created in the first 10 days of school.
Over 3,000 active classes and almost 15,000 unique users after two months.
Other-than-academic usage:

Finance department is using a class to collect payroll forms
Accountability department is using a class for testing plans
Senior staff is using a class for weekly meetings and Board of Education meetings.
Program managers and coaches are using classes to share resources, pacing guides, and benchmark timelines for subject-specific teachers
"We're always excited to hear about the impact of Haiku Learning both inside and outside the classroom," said Bryan Falcón, CEO and Cofounder of Haiku Learning. "The technology a district invests in is only effective if people are actually using it and everyone sees the value of it. That's why we develop Haiku Learning: To exclusively focus on the unique needs of K-12, so the value is experienced by everyone in the K-12 school community."
According to Heather Horton, the Director of Digital Teaching and Learning at WSFC, the success of WSFC can be attributed to choosing the right technology and having a carefully planned implementation.
First, they considered the true needs of the district. When the district evaluated options -- including the state-recommended learning platform -- the district determined that Haiku Learning better fit their educational objectives.
"I've always been a believer that Haiku Learning is easy to use. It's just so intuitive...We hit the ground running, getting people on board without any training. Every department [in the school district], got really creative about how they could use it," said Horton.
Next, they took a unique approach to implementation. While many districts introduce teachers to a new learning platform during back-to-school orientations, WSFC chose to first train their instructional leaders and coaches over the summer.
"As [instructional leaders] saw the usefulness of Haiku Learning, we helped them create resource sites for each content area and move all curriculum resources to those classes" said Horton. "Teachers were able to join the class created by our instructional leaders and find resources aligned to their current units of study."
Another key to success was early buy-in from district leaders. In August, Horton and her team held information sessions with administrators, where they demonstrated how administrators could use Haiku Learning to effectively communicate with staff, model best practices for teachers, and facilitate training and faculty meetings.
Horton told her colleagues, "Don't just think of a learning platform as a 'student-teacher' tool. Think of it as an 'editor-reader' tool."
The district has plans for future training as teachers go deeper into the platform spread out over several sessions, as well as a Haiku Learning Ambassador program, where each school will train a representative to be an 'expert' in Haiku Learning and take that knowledge back to their school to help lead ongoing training and professional development.
About Winston-Salem/Forsyth County School District
Winston-Salem/Forsyth County Schools is the fourth largest school district in North Carolina that serves 81 schools, 55,000 students, and 4500 teachers. District schools have earned awards from national groups including a 2012 National Blue Ribbon from the United States Department of Education for Whitaker Elementary School and the 2012 Simpson Distinguished Merit Award from Magnet Schools of America for Hanes Magnet School. The district was also one of two in North Carolina to earn the AP District Honor Roll Award from The College Board.
About Haiku Learning
Founded in 2006, Haiku Learning is a digital learning platform designed for K-12 schools. Powering learning for more than 2.5 million students across the globe, Haiku Learning's platform is known for its simple interface, flexible tools, and powerful integrations with other leading cloud services, such as Google Apps for Education. In 2015, Haiku Learning was honored as one of Indiana's Companies to Watch Spotlight Award Winner.