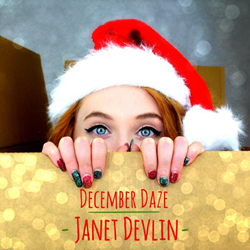 New York, NY (PRWEB) November 27, 2015
Irish singer-songwriter Janet Devlin, who People Magazine claims will "knock your socks off," releases her five track holiday-themed EP, entitled 'December Daze,' today November 27, 2015. The EP features a pair of original songs, as well as three cover songs of holiday classics. 'December Daze' further showcases Janet's unique and enchanting vocals, which were previously displayed on her debut album 'Running With Scissors.'
'December Daze' captures Janet's own songwriting skills with the title track, which was written last winter during Janet's first trip to New York City. The warm string arrangement and fragile guitar beautifully channel both the Christmas sound and a familiar folk style Janet is known for. Another original track, "Happy Holidays," is a friskier, tongue-in-cheek track in which Janet plays drums, percussion, ukulele, and glockenspiel. The heavy use of ukulele and bells creates a quirky indie pop Christmas track that deserves to be on everyone's Christmas playlist.
The EP's duo of originals slot in flawlessly amongst holiday classics such as an a capella take on "Silent Night," "Have Yourself A Merry Little Christmas," and a cover of Joni Mitchell's "River."
The 'December Daze' EP is now available for purchase in record stores nationwide, on Amazon, iTunes, and the OK!Good Records shop. The EP is also available for streaming on Spotify and Bandcamp. Janet's covers EP, 'Duvet Daze,' is also available digitally today, Friday, November 27th.
Track-listing:
1. December Daze
2. River
3. Have Yourself a Merry Little Christmas
4. Happy Holidays
5. Silent Night
About OK!Good Records:
OK!Good Records is a genre independent record label established in 2010 to distribute, market, and promote artists and music that defy boundaries, reject limitations, and transcend the ordinary. They champion and celebrate independent music, thought, art, expression, and enterprise. http://www.okgoodrecords.com