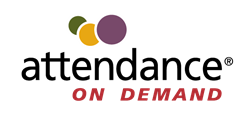 Livonia, Mchigan (PRWEB) December 01, 2015
The Affordable Care Act's (ACA) employer mandate outlines detailed formulas and processes for determining eligibility. It also details specific methods for determining individual employee full-time status. Workforce management has now entered a new era of compliance: ACA reporting.
Attendance on Demand, Inc. will provide education about workforce management features essential for navigating today's regulatory environment. Beth Baerman, Director of Communications for Attendance on Demand, Inc., will be presenting a free webinar "Workforce Management, Regulatory Compliance, and the ACA" on Thursday, December 3, 2015 at 11:00 AM ET.
Baerman will review key concepts that will help employers proactively manage their workforce:

Proactive notification of critical issues and compliance liabilities
Mobile apps for easy and instant access
Accrual and leave management features for managing mandated leave
ACA status determination and reporting
Part-time staff management for limiting ACA liability
Baerman is an expert in time and labor management. As a frequent speaker about labor compliance, she has been advising employers about the Affordable Care Act and its implications for over three years. Baerman was recognized for this work with a 2014 Gold Award for Communications in the prestigious Women in Business World Awards.
About Attendance on Demand
Attendance on Demand supports the labor management needs of thousands of companies and more than three-quarters of a million employees across North America. Launched in 2006, Attendance on Demand is a rapidly deployed, cloud-based solution that minimizes a company's risk and technology investment while providing advanced features for securely managing labor data—calculating pay rules, scheduling employees, budgeting labor, automating recordkeeping for labor law compliance and managing employee status and reporting for the Affordable Care Act. With standard uptime over the industry average of 99.995% and above average customer retention rates, Attendance on Demand removes the worry of maintaining expensive infrastructure. An extensive North American distribution network helps organizations use Attendance on Demand to reduce labor expenses and improve decision making.
http://www.attendanceondemand.com
1-800-465-9980