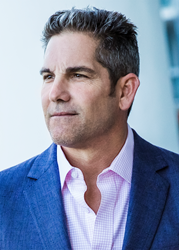 Miami Beach, FL (PRWEB) November 30, 2015
Leading International Sales Expert, Best-Selling Author and Small Business Expert, Grant Cardone, has successfully won all three category awards in which he and his companies were nominated for as part of the 2015 Small Business Influencer Awards. The awards are determined by both the community choice votes, as well as a panel of judges.
The awards include the most votes in the following categories:
Leader: Grant Cardone
New Outlet: Grant Cardone TV
Corporations: Cardone Training Technologies, Inc.
"Small businesses today have the odds stacked against them with high failure rates and minimal revenues. I remain committed to helping small businesses succeed and thrive based on the entrepreneurial spirit and the valuable knowledge to profitably drive business," said Grant Cardone, CEO of Cardone Enterprises.
The Small Business Influencer Awards honor those who are influential to small businesses in North America, through the products, services, knowledge, and information or support they provide to the small business market. The Awards are designed to recognize the unsung heroes of small businesses – those who support and encourage entrepreneurs and small business owners, and help them achieve success and stay successful.
About Grant Cardone:
Grant Cardone is a business strategist, marketing and branding expert, leading international sales expert in the world and best-selling author of five economic books. Cardone owns multiple companies; Cardone Training Technologies , Inc., Cardone Group (a software and technology business), Grant Cardone TV (online media network--GrantCardoneTV.com) , and Cardone Acquisitions, a national real estate company. Cardone is the world's top sales training expert with the most viewed online sales training site in the world today with over 2000 segments of content used by companies like Ashley, Aflac, All State, Google, MIT, Inside Sales, Udemy, Chrysler, Toyota, Morgan Stanley, TMobile, ATT, Sprint, Fran Tarkenton Companies and thousands more. You can follow Cardone on Twitter @GrantCardone or visit http://www.GrantCardone.com
About the Small Business Influencer Awards
The Small Business Influencer Awards, now in their fifth year, enable the small business community to nominate and show their support for those that influence and support them. The Awards have an open nomination period, with community voting, and then a judging period by a group of industry-knowledgeable judges. The Small Business Influencer Awards initiative is produced by Small Business Trends, an award-winning online publication, serving over 7,500,000 small business owners, stakeholders and entrepreneurs annually, and SmallBizTechnology.com, a media company that produces online content and live events educating small and mid-sized companies on how to strategically use technology as a tool to grow their businesses. The Awards can be found on the Web at: SMBInfluencers.com.