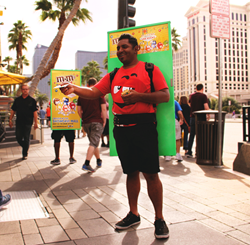 Las Vegas, NV (PRWEB) December 01, 2015
Tactical Media Group is introducing their newest product, LED display eWalk walking billboards. TMG is a full service promotional marketing company dedicated to providing superior service, acting as brand extensions for their clients, and offering a wide variety of services to match any of their clients' needs. TMG is focused on offering the best products to help their clients gain the most out of their marketing budgets.
eWalk walking billboards provide a unique experience for the consumer by allowing person to person interaction with a brand ambassador, in-hand collateral, and interactive street level marketing. "We've noticed that consumers want a higher level of interaction with brands. Our eWalk LED displays make for a unique opportunity to market to consumers day or night and along with our brand ambassadors there to provide more information, we can offer a very distinct marketing strategy and experience for our clients and their consumers," said Jim Lambright, Owner and President at Tactical Media Group.
In 2009 Jim Lambright had a vision to create a company built on principles of hard work, fun, reliability and strategic intelligence which is how TMG became a reality. TMG Team Members drive consumer demand for their clients with enthusiasm, high energy, and intelligence. Through person to person interactions, TMG Team Members create an association in the consumer's mind between the product or brand and a particular idea. Team Members spend time researching and fully understanding client brand messaging to clearly articulate and educate consumers on a client's brand and qualities.
TMG doesn't only offer the unique experience of eWalk walking billboards, but many other services to their clients. "AEG Live has relied on Tactical Media Group for years to reach concert goers all over the Las Vegas Strip and Valley. We rely on their targeted routes, professional street teams, creative marketing tactics and trust them as experts on finding the best way to connect music fans to the live entertainment we promote," said AEG Live, Las Vegas. Visit their new website tmglasvegas.com to see all of their services.
TMG can be reached at 1515 E. Tropicana, Suite 360, Las Vegas, NV 89119, by phone at 702.339.6260 or online at tmglasvegas.com. @TacticalMediaGroup on Facebook.