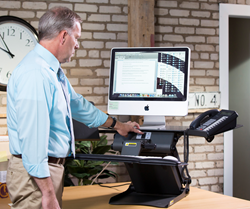 A goal of OneStop Ergonomics is to help leaders to develop a productive and positive ergonomic work space.
Burnsville MN (PRWEB) November 30, 2015
Workstation solutions provider, HealthPostures, announces the addition of a new product dealer. Joining more than 30 HealthPostures' dealers located throughout the United States, is OneStop Ergonomics. The addition allows HealthPostures to expand its foot space and increase the number of corporate, industrial, manufacturing and government workers and organizational leaders that are introduced to innovative methods that could reduce and/or eliminate musculoskeletal injuries.
OneStop Ergonomics specializes in office furniture and computer accessories. Types of accessories which HealthPostures manufacturers that align with the OneStop Ergonomics' product line include the TaskMate Go, the TaskMate Executive, the Stance Angle, the Stance Move and the Surface TaskMate. A key takeaway delivered with each of these sit/stand workstation solutions is spine and neck support while going from a sitting to a standing position.
Additional takeaways include increased physical mobility, improved morale and better employee engagement, an issue that has challenged some organizations for the last several years. HealthPostures' products offer adjustability when working with computer monitors, laptops, docking stations, keyboards and other office accessories. With an expanding product line, HealthPostures also manufactures office and industrial accessories like copy and telephone holders, desk clamps, desk organizers, monitor arms, seat extensions and monitor mount products.
Because OneStop Ergonomics is headquartered in the Western part of the United States, the partnership makes it easier for consumers living in the West to gain access to HealthPostures' sit/stand workstation solutions. A goal of OneStop Ergonomics is to help leaders to develop a productive and positive ergonomic work space.
The company places a significant priority on product design, including the ability to connect its customers with the highest levels of ergonomics equipment and accessories, whether those products are offered locally or nationally. Towards this end, since its inception, OneStop Ergonomics encourages its team as well as its customers to create and maintain a healthy workspace.
Large volume orders with OneStop Ergonomics may receive a discount. Organizations which the company caters to include businesses, worship centers, government agencies, schools and consumers seeking to furnish home offices. OneStop Ergeonomics employees have a broad range of industry expertise. It makes the partnership with HealthPostures sustainable and rewarding, as both firms continue to offer long range ergonomics benefits to workers and employers operating across a broad range of industries.
About HealthPostures
HealthPostures LLC (https://healthpostures.com) specializes in the design, development and manufacturing of workplace safety ergonomics products and equipment. For nearly 20 years, the company has built the equipment that is helping people to stay healthy while they work. The firm has developed pioneering ergonomic sit stand solutions since 1996. A key mission of HealthPostures' is to "strive to provide quality products that will help transform your sedentary life so you have a healthy way to work." Office solutions sit stand products Health Postures designs and manufactures include dual monitor sit stand work stations, dual monitor arm accessories, height adjustable industrial surface lifts and the Stance Angle chair.
Contact:
HealthPostures LLC
14310 Ewing Avenue South, Suite 100
Burnsville, MN 55306
800-277-1841
https://healthpostures.com
About OneStop Ergonomics
OneStop Ergonomics has been operating in the ergonomics and healthy workstation industry for several years. Committed to providing excellent customer service, the company has a well trained customer service team. OneStop Ergonomics also offers a toll free number that current and prospective customers can reach them through. Depending on the client, custom designs may also be available, as the company is experienced with technical drawings, equipment installation, and produce knowledge. Schools, government facilities, churches, corporations, healthcare facilities and home offices are types of locations that the company's products support. Goal of the company is to improve workplace functionality at all levels.
Contact:
OneStop Ergonomics
2825 Duell Avenue
Medford, OR 97501
800-898-0280
http://www.onestopergonomics.com/