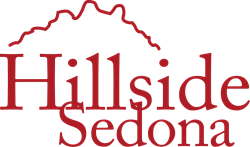 Sedona, AZ (PRWEB) November 27, 2015
Hillside Sedona, located at 671 State Route 179, Sedona, AZ, was recently featured on November 6th during 3TV's annual "Road Trip Fridays."
Each year 3TV picks some of the top destinations to showcase to their viewers and this year Hillside Sedona was one of the featured locations. Arizona's number one morning show, 3TV, chose to highlight Hillside Sedona in three full-length live segments as well as several times during the program for beauty shots. Hillside Sedona was picked for not only its variety of shops, galleries and restaurants, but because of their breathtaking views.
The show chose their coveted 7 AM- 9 AM hours for the segments, because of its prime audience viewership, but that time of day would also show off the beauty that Hillside Sedona has to offer during sunrise.
Segments included showcasing Hillside Sedona's newest restaurant, "The Hudson." The wedding venue, "The Bridge at Hillside Sedona." Also, the ALT Gallery's Dr. Seuss collection showed off that Hillside Sedona is a destination for not only parents, but their children as well.
The 7 AM- 9 AM hours are the highest rated portion of the nearly 6 hour program, which meant that Hillside Sedona was in the home of tens of thousands of viewers. The producers of 3TV were not only thrilled by the sights and experiences Hillside Sedona could offer their viewers, but were also thrilled at the hospitality shown to them throughout the program.
Hillside Sedona:
In 1986, Shirley Caris developed Hillside Sedona, bringing to it the spirit of nature, artistic qualities and the essence of the town she now called home. An upscale retail shopping center, Hillside Sedona is home to fine art galleries, unique boutiques, a variety of restaurants, locally owned shops and the event venue, The Bridge at Hillside. The popular Northern Arizona destination is filled with sites and attractions that are sources of inspiration to many. In a setting with a view of the Red Rocks that surround the property, Hillside Sedona also is a perfect destination location for photography. http://www.HillsideSedona.net
Media contact:
Jose Miguel Santiago
Phoenix Marketing Associates
602-282-0202
XXX