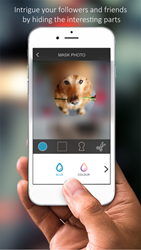 We created SnikPic to satisfy user's interest in curated content, but with a secretive twist. Our question-unlock feature is state-of-the-art, and we envision it being an immensely popular trend in content privacy
New York, NY (PRWEB) November 30, 2015
SnikPic, an innovative content-sharing app by SnikPic, INC. officially launched its latest version in the iTunes store this week after beta testing with thousands of users; changing the way photos and messages are shared among friends. SnikPic adds a puzzle aspect to social sharing by allowing users to post "blurred" content that can only be unlocked by providing the correct answer to a question that is designated to the photo or video by its creator. "Sneak Peeks" can be left revealed in the image to entice users to attempt to guess the answer.
"We created SnikPic to satisfy user's interest in curated content, but with a secretive twist. Our question-unlock feature is state-of-the-art, and we envision it being an immensely popular trend in content privacy," says Francois Julien, Co-Founder of SnikPic, INC.
"With SnikPic, we took the photo sharing concept to another level by adding an additional layer of interaction for users. We hope the additions add more fun to the whole photo sharing experience," says Carl Julien, Founder of SnikPic, INC.
SnikPic allows users to choose from a standard blur option to apply to their photo or video before posting, or create a custom mask. The media can then be locked by a question that viewers must answer in order to reveal the image. For an even more private experience, SnikPic has a direct messaging function that gives users the ability to send content directly, just like SMS, to friends and groups they've created. Friends can like and comment on images they see on accounts they're following and points are awarded through correctly answering others' questions, and posting more content. A higher "Snik Score" means a higher rank on the "ladder" – those scores can even be compared within the user's network and globally.
"While other photo sharing apps are great, SnikPic offers an entertaining new way to encrypt content while making it fun to use, and that makes it cool," says Francois Julien, "not only will SnikPic's users feel safe with the level of privacy the app offers, but we have created a social network that can be shared as a game between your friends."
Curious SnikPic users can even discover new moments and see what others are sharing around the world with the app's "Discovery Option".
SnikPic is available for free in the iTunes App Store. For more information, visit http://www.SnikPic.com.
ABOUT:
Carl Julien is the founder of SnikPic, INC. Carl graduated from a business school in Lausanne, Switzerland in 2007. Soon after graduating, Carl entered the oil and gas industry and pursued a career at Vitol as a gas trader in London, until June 2014. Carl then took a career change to focus on its passion, mobile technology, and Snikpic was founded in August 2014.