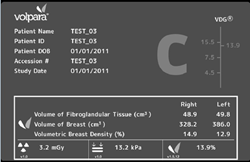 Building on the momentum of our most recent 510(k) clearance from the FDA, we are extremely proud to showcase the industry-leading quantitative breast imaging tools here at RSNA," said Highnam.
CHICAGO (PRWEB) November 30, 2015
Volpara Solutions today introduced two new additions to its industry-leading suite of automated breast density assessment and enterprise analytics solutions, here at the 101st Annual Radiological Society of North America (RSNA) meeting, November 29-December 4, 2015 (South Hall booth #2377). Volpara's quantitative breast imaging tools enable personalized measurements of volumetric density, patient-specific dose, breast compression and other factors designed to enhance clinical decision making, breast imaging workflow, and the early detection of breast cancer.
Volpara will showcase a new solution designed to help radiologists address the requirement in the BI-RADS 5th Edition Atlas to provide "an overall assessment of the volume of attenuating tissues in the breast, to help indicate the relative possibility that a lesion could be obscured." The Volpara Density Map, pending FDA clearance, presents 3D quantitative volumetric information created by the VolparaDensity algorithm in a 2D image that is available as an additional DICOM secondary capture image. For cases where the radiologist may want additional information beyond the VolparaDensity Scorecard, the Volpara Density Map provides a highly reliable and reproducible means of visually assessing which regions of dense tissue present a masking risk by showing true density in a standardized way together with quantitative metrics that provide more information on the dense tissue. The Volpara Density Map also optimizes the visual comparison of fibroglandular tissue change over time.
VolparaEnterprise, a new work-in-progress solution, provides real-time quality assurance and performance monitoring through dynamic, interactive dashboards. Designed to help facilitate the evaluation of mammography and tomosynthesis system utilization, examination times, patient dose, patient positioning, and patient comfort, VolparaEnterprise can help sites perform rapid quality control to spot issues for early intervention, optimize deployment of imaging resources based on density population demands, increase effectiveness of technologist staff, and provide objective evidence to demonstrate compliance and quality of care. VolparaEnterprise is highly intuitive and can be accessed from any browser or mobile device. It is also highly scalable from a single center with one system to a large practice or breast center with several sites with multiple mammography or breast tomosynthesis systems. VolparaEnterprise also includes new positioning metrics, including detection of nipple in profile, inframammary fold, and pectoral angle analysis. The majority of the data consolidated in the VolparaEnterprise dashboards has never before been available in an automated, customizable solution.
Volpara recently announced a new 510(k) clearance from the U.S. Food & Drug Administration (FDA) for VolparaDensity™, the benchmark in breast density assessment and clinically correlated to both the sensitivity of mammography and risk of developing cancer. The new clearance covers VolparaDensity version 3.1, which has been specifically designed to correlate to the Fifth Edition of the Breast Imaging-Reporting and Data System (BI-RADS) Atlas from the American College of Radiology (ACR).
At RSNA, Volpara will showcase updates available with VolparaDensity v3.1, the first density assessment tool available clinically for use with digital breast tomosynthesis data sets from Hologic, GE, and Siemens tomosynthesis systems. Updates include configurable patient scorecards, a high-capacity server, and the ability to route patient results by Volpara's FDA-cleared Volpara Density Grades (VDG), which are correlated to the BI-RADS density categories.
"Building on the momentum of our most recent 510(k) clearance from the FDA, we are extremely proud to showcase the industry-leading quantitative breast imaging tools here at RSNA. Featuring several new solutions designed to enhance clinical decision-making, workflow, and the early detection of breast cancer that we are showing as works in progress, we continue to strive to deliver clinically relevant solutions that help users provide the best breast care available," said Ralph Highnam, Ph.D., Volpara Solutions CEO and Chief Scientist.
Visitors to the Volpara booth will also be able to take advantage of presentations on key breast density and volumetric topics by industry luminaries. The four 15-minute presentations will take place daily, Sunday through Wednesday, including:

VolparaDensity and Personalized Breast Screening, Shawl Lobree, BSE, 12 noon
Patient Positioning & Compression: Essential For Clinical Performance, Bonnie Rush, RT(R)(QM), 1pm
Get Smart About Dense Breasts, JoAnn Pushkin, 2pm
VolparaDensity Past, Present, and Future, Professor Sir Mike Brady, 3pm
VolparaDensity is in use at breast imaging centers worldwide to help radiologists objectively assess density from both digital mammography and tomosynthesis data and to determine which women would benefit from additional screening. Highly correlated to breast MR assessments, VolparaDensity is a reliable tool that automatically generates an objective measurement of volumetric breast density correlated to the ACR (American College of Radiology) breast density categories. To date, more than 7 million women have had their breast density analyzed using VolparaDensity.
For our latest RSNA news, please visit http://rsna.vporoom.com/VolparaSolutions.
About Volpara Solutions
Founded with the goal of helping radiologists give women the most accurate information possible regarding their breast health, Volpara Solutions is the wholly owned sales and marketing arm of Volpara Health Technologies Limited of New Zealand (formerly Matakina Technology). CE-marked and cleared by the FDA, Health Canada, and the TGA, VolparaDensity provides an objective volumetric measure of breast density from both digital mammography and tomosynthesis data. VolparaDensity is part of a suite of quantitative breast imaging tools built on the Volpara Solutions algorithm that allows for personalized measurements of density, patient-specific x-ray dose, breast compression, breast positioning, and other factors designed to provide critical insight for breast imaging workflow. For more information, visit http://www.volparasolutions.com.
# # #