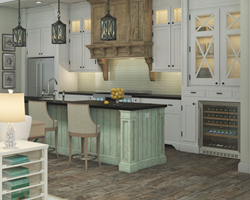 "The homes at Bluejack National provide a welcoming environment that brings people closer together, which is a perfect complement to Dacor's family-oriented values," said Dacor President and CEO Chuck Huebner
LOS ANGELES, CA (PRWEB) December 15, 2015
Home chefs will soon be able to create a culinary masterpiece after enjoying a round of golf on the first Tiger Woods-designed golf course in the U.S. Dacor®, a leading manufacturer of ultra-premium kitchen appliances, announces that nine of its signature products will be featured in select luxury homes close to the golf course as part of Bluejack National, a world class private club and community in Montgomery, Texas.
"The homes at Bluejack National provide a welcoming environment that brings people closer together, which is a perfect complement to Dacor's family-oriented values," said Dacor President and CEO Chuck Huebner. "This luxury community now combines world-class service with best-in class-appliances to create a unique opportunity for families to make memories that last a lifetime."
TWEET THIS: Products from @DacorKitchen in #luxuryhomes at @BluejackNation – home to the first #TigerWoods-Designed golf course in U.S. http://bit.ly/1R05Bz3
In addition to the golf facilities and first-class amenities, Bluejack National will offer 386 private residential options including Member Suites (28), Cottages (96) and Sunday Homes (23), cultivating unique opportunities for leisurely activities and adventure.
"Dacor appliances are engineered to accommodate the upscale lifestyle of the residents at Bluejack National, raising the expectation of what appliances can achieve," said Huebner. "With Discovery iQTM technology, home owners are equipped to control their oven using their smart phone from anywhere, including on the golf course."
"The design brief from Bluejack National for these properties was to deliver elegance, high quality and functionality within the kitchens of each property and Dacor products, with their innovation, superior caliber, and sleek design, absolutely meet this requirement", said Micah Tipler, Principal and Founder of Crimson Design Associates, the Houston-based luxury interior design firm who have created the interior concepts for the Cottages, Sunday Homes and Member Suites.
These properties, designed by Crimson Design Associates and constructed by Tipler Design and Build at Bluejack National, will include the following Dacor products: Discovery iQ™ 36-inch Dual-Fuel Range (available in custom colors with the DacorMatch™ color system), Distinctive® 36-inch Freestanding Refrigerator, Renaissance® Wine Cellar, Renaissance® 24-inch Dishwasher, Discovery® 24-inch Microwave Drawer, Renaissance® 24-inch Integrated Warming Drawer, Discovery® 36-inch Outdoor Grill, Renaissance® Integrated Ventilation and Discovery® 24-inch Convection Microwave.
# # #
Media Notes
Related Links:
Dacor Website
Bluejack National Website
About Dacor
Celebrating its 50th anniversary, Dacor is a manufacturer of ultra-premium kitchen appliances. Designed and built in California, Dacor's cooking appliances integrate function and technology to create high-performing, intuitive products that reflect the lifestyle and needs of the passionate cook. Since 1965, Dacor has been responsible for many of the innovations that have improved the way people cook in the modern kitchen. Dacor is family owned, and embraces its legacy, heritage and expertise to lead the company into a new age of cooking innovation. http://www.dacor.com
About Bluejack National
Bluejack National is an exceptional private club and resort-style community, north of Houston, in Montgomery, TX. Located on 755 acres of gently rolling countryside within the piney woods, Bluejack National features the first Tiger Woods-designed golf course and short course in the nation. The property is limited to 386 private residences and 550 memberships, and will offer luxury lifestyle with first-class amenities, including tennis, spa and wellness center, dining, corporate entertainment options and an array of indoor and outdoor family recreational activities. http://www.bluejacknational.com.