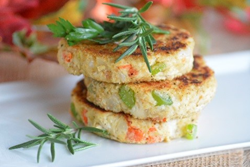 (PRWEB) November 25, 2015
The holiday season is jam-packed with family dinners, parties and gatherings where preparing the perfect dish and pleasing the palates of attendees is of the utmost importance. Whether you are cooking at home for the family or bringing a dish to a seasonal get-together, give these recipes a try this holiday season.
Turkey Croquettes
Ingredients:

2 cups leftover turkey
½ cup milk
¼ cup flour
1 egg, beaten
1 teaspoon poultry seasoning
2 stalks celery, diced
1 medium carrot, diced
1 small onion diced
Butter, bread crumbs
Directions: In a saucepan, sauté the carrots, onion and celery until tender. Whisk together the milk, flour and poultry seasoning and pour over vegetables. Cook until mixture is thick. Remove from heat and allow to cool slightly. Stir in the leftover turkey and beaten egg (mixture will be thick). Shape into patties. Coat each patty lightly with bread crumbs. Cook patties in a nonstick skillet over medium high heat for 6 minutes each side.
Christmas Morning Quiche
Ingredients:
1 pre made pie crust for 9" pie
6 eggs
¾ cup milk (whole or low fat)
¼ cup diced green bell pepper
¼ cup diced red bell pepper
¾ cup shredded Colby jack cheese
1 small onion, diced
½ teaspoon salt
¼ teaspoon pepper
Directions: Preheat oven to 350 F. Carefully unroll pie crust and line a 9" deep dish pie pan. In a bowl, beat the eggs and milk together. Add the pepper, onion, cheese, salt and pepper. Pour mixture into pie crust. Bake in preheated oven for 35 minutes or until center is set.
For more information about Florida Dairy Farmers or to find great recipes for the holiday season and beyond, visit http://www.floridamilk.com.
# # #
About Florida Dairy Farmers
Florida Dairy Farmers is Florida's milk promotion group, working to raise awareness of the dairy farming industry and the nutrient-rich foods it provides. FDF represents more than 130 dairy farming families throughout the state. For more information, call 407-647-8899 or visit http://www.floridamilk.com.