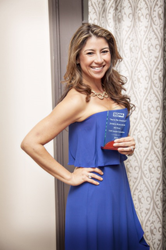 Her level of customer care is an integral piece for our growth in her 5 years with our company.
San Diego, CA (PRWEB) November 30, 2015
The Bill Howe Family of Companies is an award winning San Diego plumbing, heating & air conditioning, and restoration & flood services company. A leader in the industry for 35 years, they have maintained value, ethics and commitment to giving back to their community. With over 150 professionals within the company, across three divisions, they have many employees with their own outstanding award recognition.
The TOBY Award Gala honors The Outstanding Building of the Year, and is hosted by the Building Owners and Managers Association (BOMA) and was held at the Estancia Resort in La Jolla earlier this month. Each year, buildings and property managers submit their properties to be recognized at the TOBY's. The award recognizes and celebrates the success of its members and honors "the best of the best" in commercial buildings. Kilroy, Irvine and Hines were a few of the San Diego winners.
Jessica Kalloch is the Business Development Director for the local San Diego plumbing company, as well as a co-chair of BOMA, and on the TOBY committee for 2015. The TOBY committee, and Jessica as Vice-Chair, was responsible for coordinating building tours and constructing the prestigious nominations for nominees in 15 categories. Additionally, Jessica was the co-emcee for the gala event. But, to her surprise, she was also the recipient of an award that evening for her work with the TOBY committee. Jessica was presented with the "You're the Greatest" Award.
"Jessica is outstanding, both as an individual and in her role at Bill Howe," said Tina Howe, Vice President of the Bill Howe Family of Companies. "Her level of customer care is an integral piece for our growth in her 5 years with our company. Jessica's role in San Diego plumbing was one of a kind, and she built it from the ground up. She is a tenacious person with exemplary business acumen making her success numerous. We couldn't be prouder to recognize her for receiving this award. She is truly the greatest."
Jessica is also the recipient of several industry awards through many organizations she is involved with including BOMA, IREM (Institute of Real Estate Managers), as well as a 2014 winner of the San Diego Business Journal's Woman Who Mean Business and an Honoree at the YWCA's TWIN (Tribute to Women in Industry) Award Ceremony in 2014.
For more information about the Bill Howe Family of Companies' services in San Diego heating, plumbing and restoration, visit http://www.billhowe.com, or to speak with Bill or Tina Howe regarding this announcement, contact Bill Howe Marketing Director, Julie Riddle at Julie(at)billhowe(dot)com.
About Bill Howe Family of Companies
Bill Howe Family of Companies is comprised of Bill Howe Plumbing, Inc.; Bill Howe Heating & Air Conditioning, Inc.; Bill Howe Restoration & Flood Services, Inc. The family-owned and operated company began in 1980 with the plumbing division and has grown into San Diego County's largest low-cost one-stop-shop for service, repairs and installation, offering both residential and commercial services. 9085 Aero Drive, Suite B, San Diego CA 92123. Call 1-800-BILL-HOWE because We Know Howe!
###