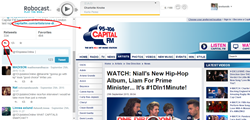 "Some of us have worked on this project for over 20 years now, and we are so glad that it is proving to be useful in so many ways to many people. We look forward to sharing stories about how others are using Robocast." - Damon C. Torres, CEO, Robocast
NEW YORK, NY (PRWEB) December 02, 2015
December 2, 2015
Robocast Inc. released a major update to Robocast Social(sm) - an automated player for social media feeds from Reddit, Twitter and Instagram, such as timelines, photo albums, trending news or comedy. Now, without even signing in or creating an account, anyone can use Robocast's patented Play Technology at http://www.robocast.com/social to turn the normally click- or scroll-heavy task of browsing social media into an interactive multimedia playlist.
For example, any Robocast user now has the ability to play Twitter or Instagram posts by clicking on a hashtag or username or putting in a search term – no sign-in or account required. With one click, the user will see not only all the posts related to that search, but Robocast will automatically open most content (pictures, videos, websites) associated with each post.
Click below to try this "Gift Guide" search on Robocast Social to play Tweets automatically:
http://robocast.com/social/public/twitter/search?q=gift+guide
Logged in users of robocast.com that have linked their Twitter and Instagram accounts now have the ability not only to play their own personalized feeds, but to fully interact by commenting, marking favorites, following/unfollowing, etc.
Click below to try this search for "#HolidayDinner" that plays Instagram posts:
http://robocast.com/social/public/instagram/tags/HolidayDinner/media/recent?search=1
With one click on the name of a popular Subreddit (a thread on reddit.com, the 10th most visited site in the U.S.) users will be presented with a show including content from that thread sequentially. Without Robocast, a user would have to click once to view an image and then again to go back to the list, and then repeat that process for each and every image. A Robocast user can see hundreds of posts with a single click at any pace.
Play the "Aww" Subreddit on cute baby animals from reddit.com automatically at:
http://robocast.com/social/public/reddit/r/aww?with_ads=1
Robocast pioneered automated browsing techniques in the mid-nineties and is still innovating today in its services to users and publishers. "The goal has always been to make digital media use easier and more powerful, through familiar controls," said Robocast CEO Damon C. Torres, inventor of the Automated Browsing System ("ABS") for the Net. "Some of us have worked on this project for over 20 years now, and we are so glad that it is proving to be useful in so many ways to many people. We look forward to sharing stories about how others are using Robocast."
Robocast.com works in any browser, though Google's Chrome Browser is recommended, and can be accessed from most devices from smart phones to smart TVs through their browser, though a laptop is recommended. Videos play automatically on Macs and PCs. No app to download, the service is accessed through robocast.com. Hands-free browsing has been shown to add power and ease of use while browsing links.
For more information visit http://www.robocast.com, email Robocast Inc. at media(at)robocast.com or alliances(at)robocast.com or call (212) 433-2464.
###
About Robocast Inc.
Robocast, Inc. was founded in 1997 based on patents filed by Damon C. Torres. There are five granted patents, and a Software-as-a-Service Playlist Engine Portal at robocast.com that Robocast is licensing to individuals, publishers, and leading software companies. Robocast.com is a portal of playable links with an editorial mission to report on the top playable content in many areas including Activism, News, Sports, Humor, Movies, and Music. Sign-up to help Automate The Web(sm) so others can Play The Web(R).
About the Inventor
Damon C. Torres has worked in multimedia technology and arts since the mid eighties when he started his first company ExpoVideo ShowTapes at the tender age of 19. Since then he has worked in broadcast and non-broadcast television, trade show and concert management, multimedia design and consulting. In 1995 Damon began full time work as an inventor that continues to this day, filing patents, negotiating licensing deals and creating technology that is shareable and scalable with Robocast's great teams around the world. He has a BFA from New York University in Television & Film Production.