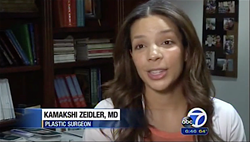 San Francisco, CA (PRWEB) December 04, 2015
"Some women are choosing to get rid of their breast implants and have smaller, more natural-looking breasts and a new combination procedure makes it possible," says Dr. Kamakshi Zeidler, a board certified plastic surgeon in Los Gatos, CA. "I do many breast augmentations with implants and also a lot of implant removal," says Dr. Zeidler. "Downsizing after breast augmentation is done by removing the old implants and using a process called 'auto-augmentation' to rearrange breast tissue for a more natural look."
Dr. Zeidler recently appeared in this story on KGO 7 News San Francisco to show a patient's experience with removing her breast implants: https://youtu.be/5LL-Q_CO_Es
"To make the breasts look attractive after implant removal I perform a 'natural breast lift' with 'auto augmentation' using the patient's own breast tissue to add volume, combined with fat grafting to fill out the top of the breasts. This is trending to be a very popular technique for women who are tired of their old breast implants and want a smaller, more rejuvenated look," says Dr. Zeidler. "The fat grafting lets us contour other parts of the body with liposuction and put unwanted fat to good use by adding volume to make the breasts extra perky."
The "natural breast lift" is done by rearranging the woman's own breast tissue to the upper half of the breast to create volume and contours after removing breast implants.
Dr. Kamakshi Zeidler is a board certified plastic surgeon in the San Francisco Bay Area.
For more information or to arrange a consultation visit Dr. Zeidler's website at http://www.ZeidlerPlasticSurgery.com and call 408-559-7177.