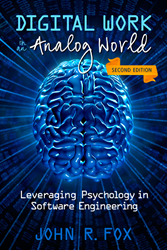 Leveraging human potential holds more promise than technology itself according to NASA
Minneapolis, MN (PRWEB) November 27, 2015
Software engineering author John R. Fox's second edition of Digital Work in an Analog World further explores the non-technical side of software engineering. Most people in the industry focus solely on the technical aspects and spend little effort on the critical social and human aspects.
As software teams become more diverse and virtual in nature, developing functional teams that can deliver a solid software product on-time and within budget becomes ever more elusive.
Fox's exhaustive book features extensive research and personal accounts on how to build and maintain effective software teams, even when these teams are located across the globe. States Fox, "Teamwork is becoming ever more demanding in software engineering because organizations are under tremendous pressure to do more for less today."
Fox believes that software professionals, particularly Project Managers and ScrumMasters, can use this book as a means to enhance their careers in a multitude of ways. Even those peripherally involved in software engineering will gain valuable insights into the nuances of various software practices and how they might be enhanced in their organization.
The book is available from the author at http://www.analogdevelopment.com, from the publisher, Studio City Media Endeavors, and through various on-line book retailers. Bulk order discounts for colleges and universities are available.
John R. Fox has written software related feature articles for numerous local and national publications. Fox began his career as a systems programmer and is currently Chief Operating Officer for Network Guidance and a mentor for the Minnesota Emerging Software Advisory group. Fox has a B.A. in Psychology from Gustavus Adolphus College and resides in the Minneapolis, Minnesota area.