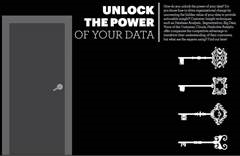 Do you know how to unlock the true power of data? A must read for all those connected with insight, data and analytics.
(PRWEB UK) 26 November 2015
What has become clear is that businesses are having a difficult time unlocking the true motivations behind customer behaviour and that using innovative techniques to uncover customer insights is becoming the key differentiating factor when it comes to customer experience.
So why is this not done to a greater degree by all businesses – surely it's a trick that is currently being missed in the all too important customer strategy?
To find out the answers to these questions and much more, the Customer Insight & Analytics Exchange interviewed some of very best insight and analytics brains out there to discover how they unlock the power of their data, including: Stephen Ingledew, Managing Director of Customer & Marketing at Standard Life; James Frost, CMO at Worldpay UK; Ian Kenealy, Head of Customer Data & Analytics at RSA; and Dominic Grounsell, Global Marketing Director at Travelex.
You can access a complimentary copy of all the interviews and articles in the just released "Unlock the Power of your Data" infographic by clicking on the link to download it now >> http://bit.ly/1N9i7IY <<
These interviews have been conducted ahead of the Customer Insight & Analytics Exchange, which will once again return to London to shake the data world on 27 – 28 January 2016. The agenda features some of the greatest insight, data and analytics minds, including: Chief Scientist, King; Senior VP Operation West Africa, Orange; Head of Big Data & Insight, Google; Director of Analytics, Barclays; Principal Analyst, Customer Insights, Forrester Research; Vice President Analytics & Insights, Liberty Global; Director of Data & Insight, The Net- A-Porter Group and many more.
Roberta Romano, Research Director for the Exchange, comments: "With customers demanding a consistent level of experience and service throughout all touch points, the need to collate, analyse and action the data insights is greater than ever. With technology moving forward as quickly as it is, this is an area which will only continue to grow and become even more crucial in terms of being a brand differentiator. That's why this forum is tailored specifically for our delegates, with only strategic leaders from the world's most influential brands invited to attend. This has already led to an unprecedented response for the January meeting, and needless to say, we're very excited for what the event has in store."
For more information or to request your invitation to attend the Customer Insight & Analytics Exchange (27 – 28 January 2016, London) visit: http://bit.ly/1Q0qqMo or call +44 (0)207 368 9484.