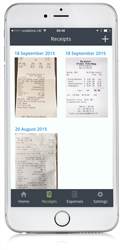 Berkshire, England (PRWEB UK) 30 November 2015
Due for release at the beginning of December, the ExpenseIn solution to business expense management is an app and web-based software that will make the way UK business owners, finance departments and individuals manage their expense claims quicker and easier.
ExpenseIn keeps a record of all your transactions so that you don't have to. Use the app to grab a photo of your receipt and it will be uploaded and stored to your account; for journeys on the road, choose the vehicle information, add locations and enter the distance; and to record your meeting times, just enter your hours and rate.
The ExpenseIn app will do all the rest, recording information, keeping it secure, with everything accessible and retrievable. Making claims is efficient, simple and compliant with HRMC regulations.
Meanwhile, administrators can add and amend company policies and approval flows as and when they wish. Email alerts are sent when a claim is submitted that requires approval, the reviewing of claims all takes place online, with receipts available to view and reports can be exported at any time into your desired format.
As a result, the time-consuming and costly ritual of filling in and reviewing reams of spreadsheets is a thing of the past.
Getting started with ExpenseIn takes minutes. With an app designed for intuitive use, users can enjoy a free 30-day trial before deciding whether to opt for a £5 monthly or a £48 yearly subscription plan.
Importantly, users are not tied to a long-term contract, so they can stop using the service at any time without penalty.
With ExpenseIn, there is no need to retain receipts or fill in spreadsheets. Finance departments have greater control over policies and workflows, and making business expenses claims is straightforward and logical. With a free trial and no commitment to a long-term contract, the ExpenseIn app is available in the Apple Store for IOS devices, and in Google Play for Android devices.