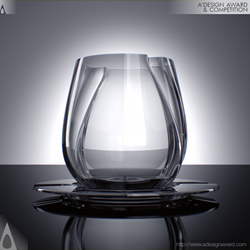 Como, Italy (PRWEB) November 26, 2015
A' Design Award and Competition is pleased to announce that the design project Pegtop by Anastasia Gavrilova has been announced as a winner of the Golden A' Design Award in Drinkware Design Competition Category.
More on Pegtop
Anastasia Gavrilova, the creative mind behind the award winning Kitchenware project Pegtop demonstrated "Innovative cup for coffee or tea which mixing ingredients without spoon. It rotates around its pivot-center on a stand-saucer by a push hand. Special pear-shaped design and the ribs which are inclined towards rotation provide good mixing drinks and prevent a spillage (streams of liquid go down). There is no more discomfort from a spoon hitting the cup. The process of drinking coffee or tea obtains a shade of a beautiful game." Learn more about this design: https://competition.adesignaward.com/design.php?ID=37015
Project Members for Pegtop
Pegtop was designed by Anastasia Gavrilova and Rafael Gaynullin.
The Golden A' Design Award
The Golden A' Design Award for Drinkware is a prestigious award given to top 3% percentile designs that demonstrates an exemplary level of quality in design. Entries to the Drinkware design awards are peer reviewed and anonymously voted by a grand jury panel of established scholars, experienced design professionals as well as prominent press members. Award winning designers and companies are granted the coveted A' Design Prize to celebrate the success of winning the accolades. Laureates of the Drinkware design awards are eligible for the A' Design Prize.
About A' Design Award and Competitions
A' Design Award and Competition is the worlds' leading design accolade that accept entries of extraordinary, original and innovative design concepts, products and services for awards consideration. The A' Design Awards are organized internationally in a wide-array of categories in order to highlight the best designs from across the globe. The ultimate aim of the competition is to push designers, product manufacturers and brands worldwide to come up with superior products and services that benefit society. Learn more about the A' Design Competition at http://www.whatisadesignaward.com