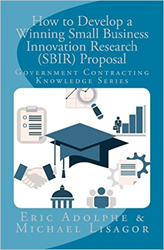 The process companies are required to under-stand and follow to win federal, state and local government contracts is often confusing and unforgiving (Mike Lisagor, GOVPROP.com Chief Knowledge Officer).
Chantilly, Virginia (PRWEB) December 01, 2015
How to Develop a Winning Small Business Innovation Research (SBIR) Proposal, published by http://www.govprop.com, provides invaluable guidance and examples for developing each section of a typical SBIR proposal. The book was written by two recognized government acquisition experts, Eric Adolphe and Michael Lisagor. It is available on Amazon in paperback ($9.95) and for the Kindle ($4.99).
The Small Business Innovation Research (SBIR) Program and its sibling, the Small Business Technology Transfer (STTR) program, are federal initiatives that provide over $2 billion in grants and contracts each year to small and start-up companies to develop new or enhanced products and services based on advanced technologies. About 40% of the SBIR Phase I awards made each year go to firms with no prior SBIR experience. SBIRs are administered by ten federal agencies for the purpose of helping to provide early-stage Research and Development funding to small technology companies (or individual entrepreneurs who form a company).
For further book information or interview requests, please email: mlisagor@govprop.com.
ERIC A. ADOLPHE is the CEO and visionary behind Government Proposal Solutions, Inc. (GPSI – http://www.GOVPROP.com). He is a 17 time SBIR Principle Investigator and has written and won SBIRs for NASA, NIH, and DOD. He is also the sole African American SBIR Tibbetts Award Winner and has been a speaker at DOD, SBA, NSF, and NIH SBIR National Seminars and Workshops. Eric has supported the acquisition of several Government contracting firms and assisted many clients in building best in class bid and proposal and sales organizations that significantly impacted revenue growth.
MICHAEL LISAGOR is a co-founder and Chief Knowledge Officer at GPSI. Mike is responsible for the development of GOVPROP's online Knowledge Academy. He founded Celerity Works in 1999 to help government contractor executives accelerate their revenue growth. Prior to this, Mike was a domestic and international business development executive for over ten years. Mike has implemented the bid and proposal process and training program for over 40 government contractors and has reviewed hundreds of competitive proposals. He is also the author of Managing and Winning Government Business and The Enlightened Manager.
About the publisher:
GOVPROP.com (http://www.govprop.com) is a one-stop secure online marketplace connecting federal, state, local and international government contractors and grantees with verified experts and consultants. GOVPROP.com also provides real time market intelligence, a Knowledge Academy, secure collaboration, talent-matching services for verified experts and a broad range of related business services. Our expert database includes former government officials and private sector employees who spent years supporting public sector programs. Contractors can search for proposal managers, graphic artists, price to win specialists, contracts specialists, bid protest attorneys, marketing and communications specialists, government affairs specialists, cyber security experts, IT and programming, construction experts, and other skills.