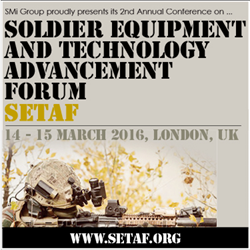 "No attendees, only participants" - SMi Group
London (PRWEB UK) 30 November 2015
Through focused networking and discussion of the assets that can increase mission effectiveness, SETAF 2016 shall bring together key stake holders from across the community, to help the soldier of today and tomorrow advance.
Drawing on a wealth of experience and technical expertise, this discussion led forum will cover the key areas of the Soldier Modernisation Programme that directly influence the operational effectiveness of the dismounted soldier:

Power
Communications
Lethality
Survivability
Mobility
Human Factors
Only by sharing ideas through the medium of networking can we develop and enhance our approach and solutions to military programmes. Join us on conference day to benefit from this unique forum. Register online at http://www.setaf.org/prweb
YOUR BENEFITS OF ATTENDING SETAF 2016

The only discussion based forum for the soldier community helping advance dismounted capabilities through knowledge exchange and debate, not Power Point presentations or lengthy key note speeches
"No attendees, only participants" all attendees have the potential to directly influence and learn from discussions, this a hands on training tool for the community
Military experts confirmed from the UK, United States, Germany, Sweden, Netherlands and Portugal
Industry experts confirmed from Rheinmetall Defence Electronics, Thales, Sagem/Safran
The only event that invites technical project managers, scientists and lead engineers from major industry programmes to join and help steer the debate
After the success of our last conference, SETAF 2016 is guaranteed to sell out once again. To secure your place & save £200, visit http://www.setaf.org/prweb today.
2nd annual Soldier Equipment and Technology Advancement Forum (SETAF)
14 – 15 March 2016
Contact email: ghippisleycox(at)smi-online(dot)co(dot)uk
Contact Number: Guy Hippisley Cox +44 20 7827 6197
Event website: http://www.setaf.org/prweb
-------------------------- END --------------------------