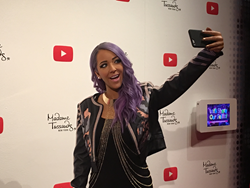 imageHOLDERS understood the importance of being secure and looking good.
Poole, Dorset (PRWEB UK) 1 December 2015
imageHOLDERS provided a Shell+ tablet enclosure for OpenEye to support Madame Tussauds New York in the launch of its first wax figure based on a social media celebrity, YouTube blogger Jenna Marbles.
The Shell+ tablet kiosk which securely displays the Microsoft Surface Pro 3 was used to encourage social media interaction with visitors to the exhibition.
The tablet enclosure works alongside a photo capturing device which encourages visitors to share the image via Jenna Marbles wax figure's social media platform on twitter. Youtuber Jenna Marbles is the first celebrity to have a wax figure with its own social media site, where selfies with fans and guests are posted.
Jenna Marbles vast social media following inspired OpenEye, Madame Tussauds digital marketing company, to embrace the social aspect of photo taking and the imageHOLDERS tablet kiosk helps to achieve their vision for the display.
Bryan Meszaros, OpenEye said, "Jenna Marbles is an internet sensation and we wanted to create a display which embraced the social aspect of her career. The "selfie station" needed to be secure and versatile enough to withstand the immense footfall which Madame Tussauds experiences on a daily basis. imageHOLDERS understood the importance of being secure and looking good."
Adrian Thompson, CEO, imageHOLDERS said, "The Shell+ enclosure is extremely flexible, secure and is perfect for even the most demanding high-traffic environments The Shell+ is simple to install and easy to use, and we are delighted that OpenEye Media and Madame Tussauds chose us to provide an enclosure for the Jenna Marbles exhibition."
imageHOLDERS Shell+ range is the most secure iPad and tablet enclosure kiosk available on the market. The enclosure is extremely flexible and can be counter mounted, wall mounted or floor standing to meet customer requirements. The Shell+ range is available in different size variations to cover a multitude of different tablets available in today's market, including but not limited to Apple iPads, Microsoft Surface, Samsung Galaxy Tabs and Google Nexus.